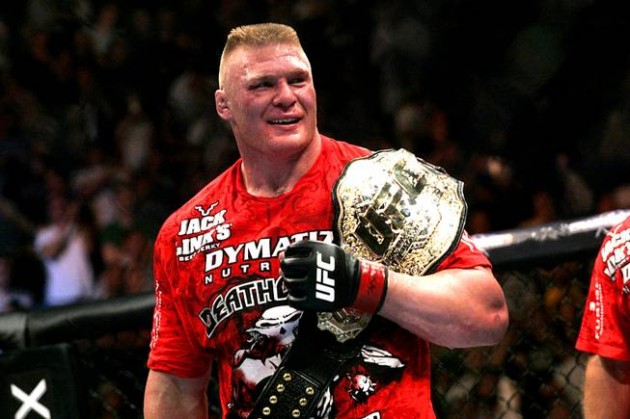 With Brock Lesnar's World Wrestling Entertainment (WWE) contract expiring very soon, possibly early next year based on reports from the pro wrestling world, rumors of the former UFC heavyweight champion returning to MMA are quickly coming around again. However, if the rumors turn out to be true, Lesnar may now have more lucrative offers outside of the UFC; it appears that Bellator MMA may be interested in signing the 265-pounder in the very near future.
According to Bellator President Scott Coker, his organization is interested in signing a big needle mover like Lesnar, someone who has star power that can bring in great ratings for Bellator on Spike TV. Lesnar is clearly the man for that job based on his past experience in the UFC.
Coker revealed earlier today on The MMA Hour with Ariel Helwani that when the time is right next year, Bellator will pursue Lesnar when he is a free agent:
I would say, look, any fighter that's out there or any star athlete – not star athlete in the sense of a baseball player, but like a Brock Lesnar – that really wants to fight, we're going to have a conversation with them. Because if they can move the needle, we're going to want them on Spike TV.
I think that he's a big needle mover. There have been several years that have passed and I think that he still has the WWE limelight. So, I think that he still has a lot of star power, but to come back and say, 'Hey, I want to train, I want to commit, I want to fight', that's going to be a big commitment on his part. We haven't had a conversation yet, but we'd like to at some point.
If Brock Lesnar does decide to compete in MMA again, where would you like to see him fight, in the UFC or Bellator? Drop your thoughts off in the comment section below.