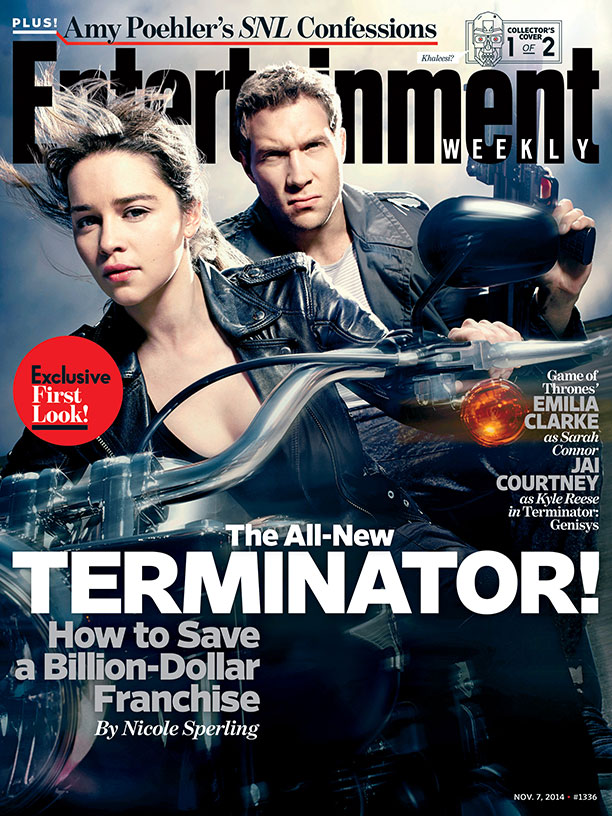 There's no doubt that we're all looking forward to the franchise reboot, Terminator: Genisys, but so far the hype has been fairly low-key. That might all change with Entertainment Weekly's double cover of its November issue, which features the cast in character form for the first time ever.
One cover features Emilia Clarke (as Sarah Conner) and Jai Courtney (as Kyle Reese), while the other features Jason Clarke (as John Conner) and Matt Smith. Don't miss the Terminator in the background grinning like an imbecile.
Terminator: Genisys hits theaters July 1, 2015.
Terminator: Genisys Synopsis:
The beginning of Terminator: Genisys, the first of three planned films that Paramount hopes will relaunch the beloved sci-fi franchise, is set in 2029, when the Future War is raging and a group of human rebels has the evil artificial-intelligence system Skynet on the ropes. John Connor (Dawn of the Planet of the Apes' Jason Clarke) is the leader of the resistance, and Kyle Reese (Divergent's Jai Courtney) is his loyal soldier, raised in the ruins of post apocalyptic California. As in the original film, Connor sends Reese back to 1984 to save Connor's mother, Sarah (Game of Thrones' Emilia Clarke), from a Terminator programmed to kill her so that she won't ever give birth to John. But what Reese finds on the other side is nothing like he expected.
Rock Hard \m/