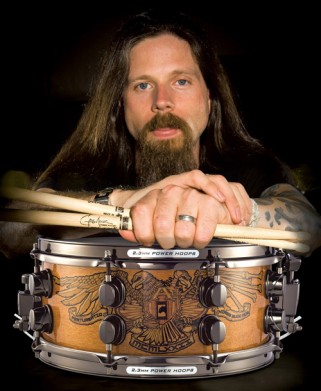 Slipknot's first single is clearly getting fans all worked up for the band's fifth studio album, the first in six years. And there are still many unanswered questions about it. We don't know the album's title and we don't know who will replace former drummer Joey Jordison and late bassist Paul Gray.
These details are driving us nuts; everyone deserves to know more by now because we have waited long enough. I know Slipknot is getting a kick out of it with all the teasers, and finally releasing the music video for "The Negative One", but it's just not enough for us. It's forcing fans to come up with their own ideas about the album and the missing band members.
For example, one metaller truly believes that Lamb of God's Chris Adler is playing drums on that first single. He submitted his thoughts directly to Metalsucks with valid points that most of you should definitely hear out.
Here is his theory:
[sic]
Ok yes it is all speculative, but hear me out.

I've been a slipknot fan since the 1st album came out, and a lamb of god fan since ashes of the wake came out. I'm also a drummer. Not a "Neal Peart is god mike portnoy paradiddles and rudiments!" drummer, I just play drums and I play along to LOG often.

I've listened to "The Negative One" several times now, and I'm telling you: that's Chris adler. The mix sounds just like his tracks from sacrament. It also sounds like his black panther snare. But most of all, there are a lot of "flam" fills all over the song, VERY typical of what Chris does on almost every LOG song. (Think the intro to "Forgotten Lost Angels" and the pre-chorus on "The Faded Line" etc.

Again, I could be wrong, but if I'm right, just remember- YOU HEARD IT HERE FIRST.
You can listen to the following two tracks from Sacrament, and let us know in the comments section below if you think this could be true.
---
Lamb of God – Forgotten
Lamb of God – The Faded Line