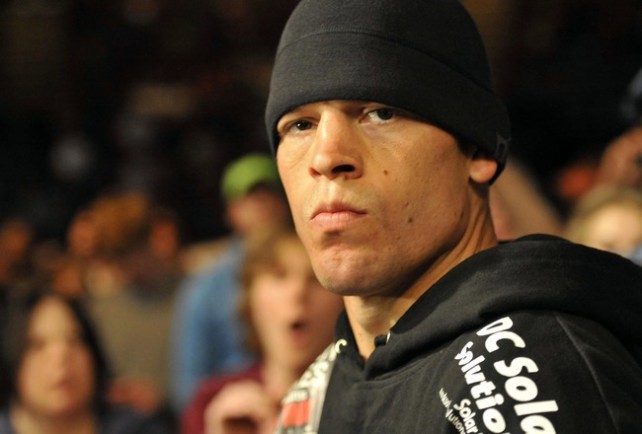 It must be difficult days for Nate Diaz knowing that both Gilbert Melendez and his brother Nick Diaz came to terms with the UFC on a new lucrative contract. Over the past few months, Nate has been pretty vocal over Twitter about his and still remains embarrassed about his pay in the UFC. He hasn't stepped back inside the Octagon since he defeated Grey Maynard in fashion at the The Ultimate Fighter 18 Finale in November.
At the moment, it sounds like progress on new terms hasn't changed much and may have even stalled out. Nate's manager Mike Kogan said negotiations between his client and the UFC has "just kind of stopped."
No, right now nobody's talking to anybody. I mean, Dana made it very clear that Nate should be happy with what he has and he doesn't see any reason to even discuss it, he's not really as popular as I guess we believe he is, and that was that, we just kind of stopped there.

So right now no, nobody's talking to anybody. Dana said Nate had the lowest rated fight in FOX history, which is not true, that was Demetrious Johnson… I don't hold grudges, it's whatever. Dana probably holds grudges, he probably doesn't really like me very much but what can I do? Nothing I can do about it. This thing, it wasn't supposed to be played out in the media. I mean, we tried to have a private conversion a long time ago, and instead of having it, UFC started trashing Nate to media, saying he's turning down fights, and he's afraid, and this that and whatever, to which we responded.

Now it's like Jerry Springer. If you're gonna be out there trashing my guy, then I'm gonna say something. I'm not just gonna be sitting back like 'oh yeah you know, we're so blessed to be breathing this air.' There are fighters out there, you know like 'Cowboy,' and he's all like 'well you know, they can just sit around and bitch all they want, I'll just keep fighting every two days and make all the money in the world.'

Why would you want to do that If you can make the same amount of money fighting three times a year? I mean, do you really enjoy getting punched in the face that much? It's just like, I don't know, it doesn't make any sense.
Is this the end of the road for Nate Diaz in the UFC? Or will the UFC finally settle something that will both satisfy them and Nate?
Drop your thoughts off in the comments section below.