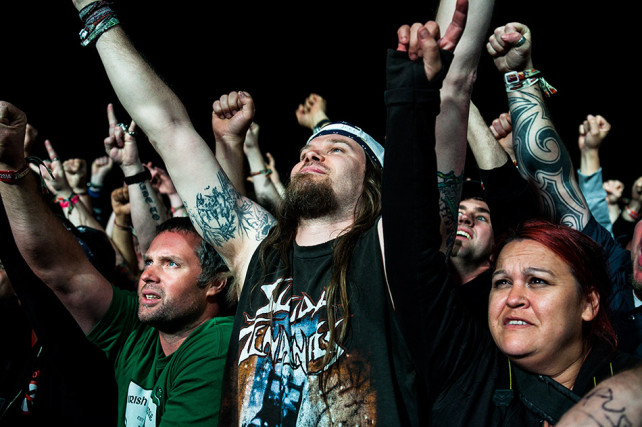 If Day 1 at Amnesia Rockfest 2014 was blessed with good weather and good people, then the rock gods came down to participate in their fine work on Day 2. With the site cleaned up and the people recharged, as much as they could be after a night of festivities, the day got underway at 11:30 a.m. sharp with Heaven's Cry and Fifty Nutz. And if you thought the variety on Day 1 was vast for a punk/metal show, then this day offered even more diversity with Cypress Hill on the bill.
---
The Used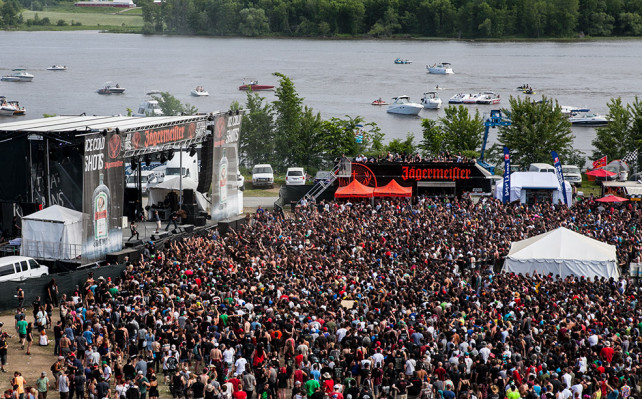 Despite their metalcore roots, The Used is another band that seems oddly placed at Amnesia Rockfest. Reason being, not unlike their friends in Taking Back Sunday, they have a little too much of that pop flavor, which is especially true in the band's latter material. However, The Used have always shifted their sound dynamic, and more so with the new-found sobriety.
Whatever it may be, having a shift in genre is actually very refreshing. It gives the audience a chance to breathe and the girls a chance to drool. Kudos to the organizers for thinking outside the box. And really, with songs like "Cry," who really gives a damn which musical corner The Used has been shoved into.
---
Dying Fetus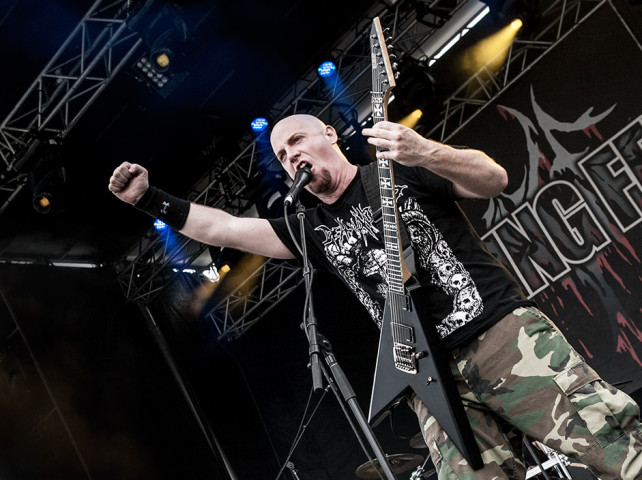 I didn't catch Dying Fetus, but King Hazard grabbed some great pics that he'd like to share with you here. FYI, he says their show was tight.
---
Cypress Hill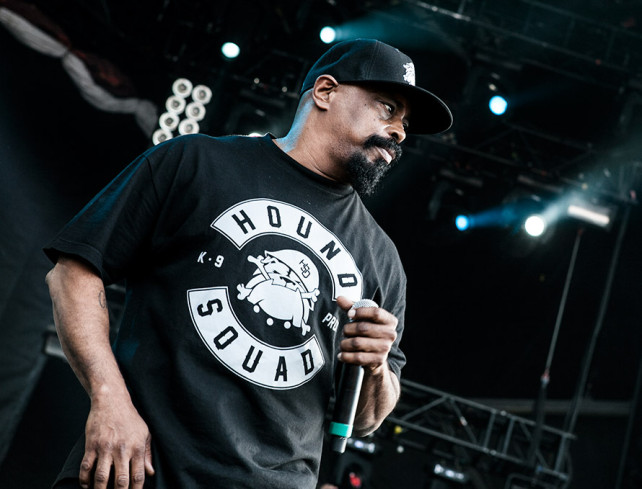 For me, Cypress Hill was a "WTF?" name to see in the lineup. Growing up, I'd always lumped them in with the rest of the rap artists of the time. Maybe next year we'll see Snoop Dogg or Dr. Dre, maybe both and they'll perform The Chronic. For King Hazard, he'd always thought of them as a band with crossover appeal for metalheads (That was always the Beastie Boys for me). They performed well, ran through their hits, impressed and energized the crowd, but in the end they were just essentially two guys with microphones on a stage with a DJ spinning the grooves. That's always been one of my arguments against rap — it's just not a dynamic show.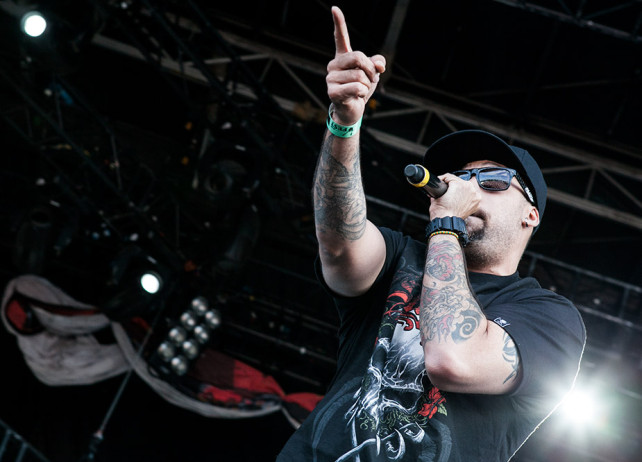 ---
Cradle of Filth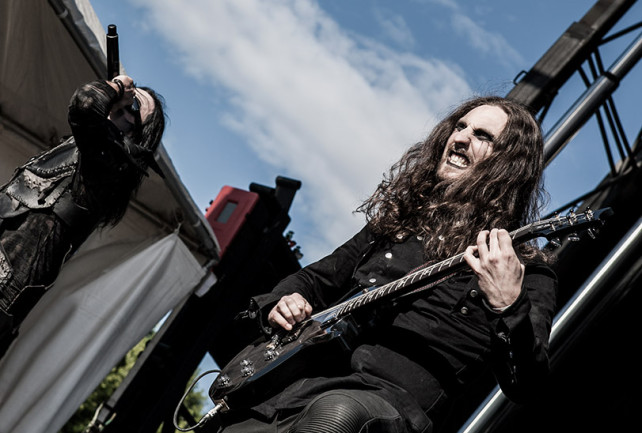 Cradle of Filth really intrigued me this year with the release of Total Fucking Darkness, and so I was just curious to see the band perform in general. They were pretty impressive, but Dani Filth's high-pitched wails should only be taken in small doses. Personally, I much prefer his death growls. Richard Shaw's interaction with the audience was menacing and intense; clearly the live/session guitarist digs his gig.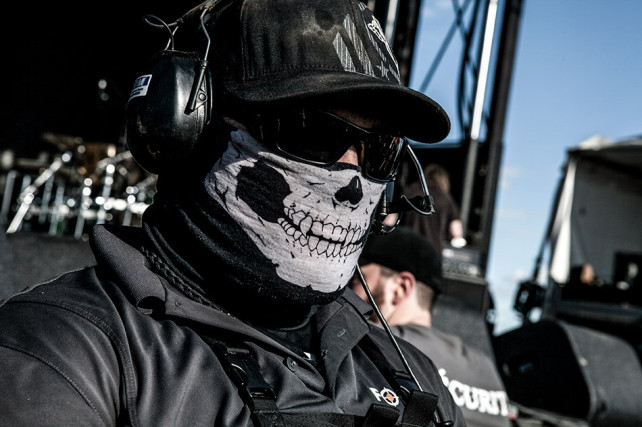 ---
Primus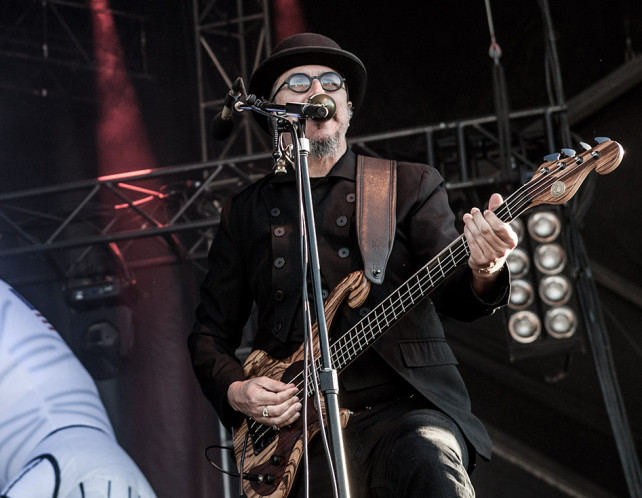 I've only every owned one Primus album, that being Pork Soda. Way back when I was really into the Red Hot Chili Peppers, and someone had said to me that if I liked Flea, I should check out Primus. So I did. I went right out and bought said album, and I liked it. But, although it's completely different music, I could only take it in small doses like I can with Cradle of Filth. That's not true with a live performance from Primus and Les Claypool… it's just totally captivating. The tribal beat that carries throughout the show hypnotizes you and Les' mastery of the bass guitar will have you standing in awe. If you've never seen Primus live in concert, do so immediately. Truly one of the great musicians of our time.
---
Joan Jett & The Blackhearts
If there was one act that I wasn't going to miss on Day 2 at Amnesia Rockfest, it was Joan Jett. The woman's music is awesome, spans generations, and is timeless. OK, she does a lot of covers, but she's made them her own. And then there's what she's done for girls/women in rock starting with her days in The Runaways, paving the way for all girls who've ever wanted to smash a string, kick a drum, or wail on the mic. Joan Jett is a true trailblazer.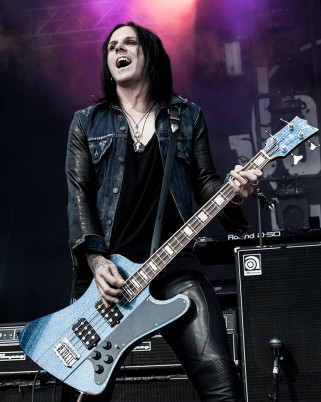 And can she ever kickass on a stage. Everything just sounded so perfect. Prior to the show starting I was joking around with some older ladies in the audience, mentioning to them "Queens of Noise" from The Runaways and how we likely wouldn't be so lucky to hear that… but we got to hear fucking "Cherry Bomb." That was a total treat. And it wasn't until the second half of the set when she really got into her bigger hits, like "I Love Rock 'n' Roll," "Crimson and Clover," and "I Hate Myself for Loving You."
But Jett didn't just attract an older crowd. No there were people from all age demographics, crowd surfing, moshing, and some big sing-along moments too. Also, Jett attracted people from the backstage area like I hadn't seen any other band do that wasn't closer to the top of the bill. I guess when greatness walks, people pay attention.
Onto the evenings headliners at Amnesia Rockfest Day 2 after the jump…