Alice in Chains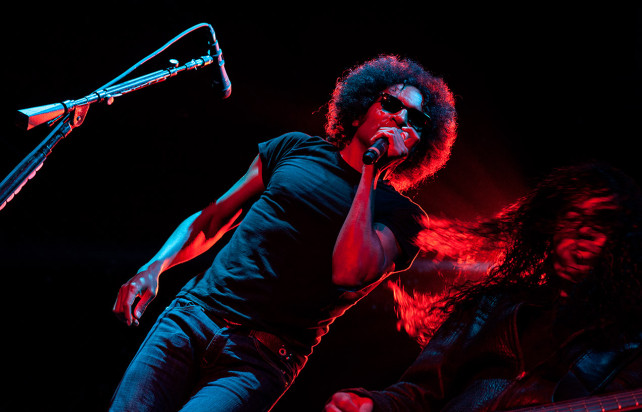 I saw Alice in Chains way back in 1991, just before grunge hit the mainstream. They opened for Van Halen on the F.U.C.K. tour and ended up getting booed the entire time they played. At the end of their set, then vocalist said, "Thanks a fucking lot," threw down his mic causing a "ping" to echo throughout the stadium, and walked off the stage.
Well, they didn't get booed here. In fact, they had the heaviest, richest, most melodic bass tones all day. Thank you Mike Inez.
Honestly, I was curious and a bit skeptical about William DuVall on vocals. Obviously I've heard some of his stuff with AIC, and knew his voice was similar, but I'd never heard him perform any of Staley's songs. Holy flying dildos! It's almost scary how much this man sounds like the late Staley. And as you sit there in awe as to how great it actually is, you're dumbstruck by how many hits AIC actually had.
---
Danzig with Doyle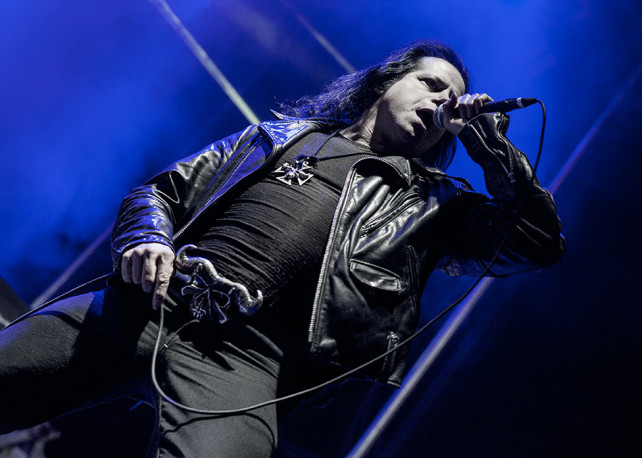 Fact, Danzig's music is awesome. Fact, Danzig's performance is awesome. Fact, Danzig's legacy is undeniable. Fact, Danzig is too old to be such a dick on stage. Within minutes of the opening song, Danzig rushed the photo pit and grabbed a camera from one of the photographers — because he didn't want pictures taken. King Hazard, seeing Danzig in motion like a raging bull, had the foresight to back away from the stage as quickly as possible before his rig was grabbed.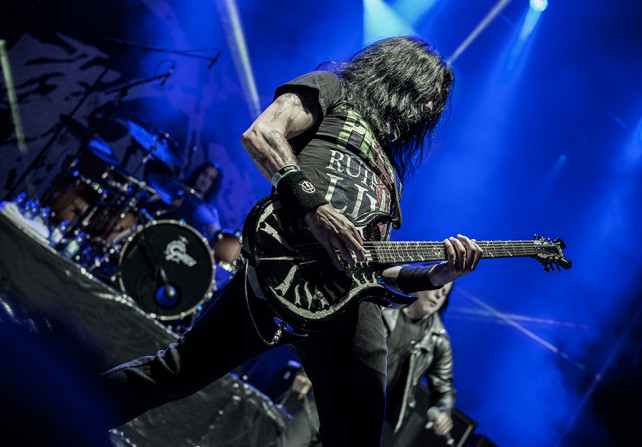 Other than that, the performance was awesome, especially "Twist of Cain," but of course that might be because that's my favorite Danzig song. And when Doyle came out, the onstage intensity tripled. Holy crap is that guy ripped. I've seen him with Danzig before, at Heavy MTL last year, but it was from a distance. I don't know why, but I just didn't realize how big he was.
So, between imposter Misfits and Danzig with Doyle, I guess we ended up seeing the Misfits after all.
---
Motley Crue
To cap off our two days of constant music, we had the headliner of the night, and essentially the headliner of the fest. After an epic intro for Motley Crue to take the stage, they opened with "Saints of Los Angeles," which seemed a little odd for an opener on the Farewell Tour. Nonetheless, it kicked ass and the crowd sang along all the way.
OK, I've gone on record a million times about how horrible Motley Crue is live, mostly having to do with Vince Neils vocals. Usually, he just sounds like shit. I've only seen them live once, which only confirmed all the crappy live videos I've seen of Crue. This time, however, Vince Neil actually sounded great. I couldn't believe that this was the same guy; he sounded almost as good as he does on studio albums.
I love Motley Crue albums, but I can never not criticize some aspect of their show. This time it's Mick Mars, and my heart really goes out to the guy. He suffers from ankylosing spondylitis, an arthritic condition that causes great pain in his back, and it really shows when he's on stage. He stands hunched over with a curved back and never twists or turns, always keeping his nose over his toes. I suspect that it also affects his playing. Don't get me wrong, he's still up there giving it his all, but I found that a lot of the solos had been adapted in some way.
Crue also had the backup singer girls strutting their stuff about. Oh, what a sight. Plus Vince had a sexy vixen bringing his guitars out whenever he needed one, and he had to make sure everyone took notice: "Yeah, we got girls. We're Motley Crue, what do you expect?"
The rest of the show was dedicated to the hits, more or less, and it ended way too soon. They only played for one hour, with a one-song encore. Such a shame. I could have watched them play for another hour at least… and there was no drum solo and no risers either. But the stage wasn't without its props; Nikki Sixx' mic stand was a contraption that hung from the rafters with a huge pentagram three-quarters of the way down. Also, on either side of the drums were two huge industrial prop fans.
It was a great show, but for a Farewell Tour appearance, I expected a lot more.
And there's Day 2 at Amnesia Rockfest. I bet you wished you had gone, right?
Rock Hard \m/