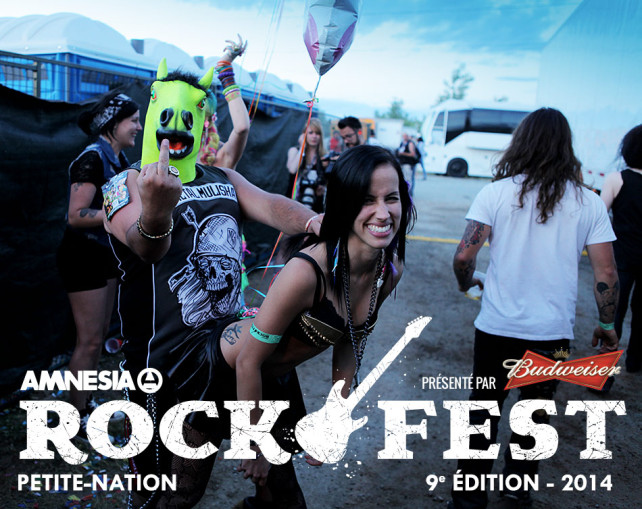 Our Day 1 experience at Amnesia Rockfest in Montebello, Quebec, was a riotous one. Despite being a little late because of some very heavy traffic getting into the massively popular festival, we got to see a ton of amazing bands perform. And, admitting my own biases about certain bands, they all played amazingly well, entertained the audience like pros, and had the benefit of great sound and spectacular weather.
Fans benefited from all this as well, in addition to enjoying a huge variety of music genres that ranged from the pop sensibilities of Taking Back Sunday to punk maestros NOFX to the thrash gods of Megadeth to death metal gore kings Cannibal Corpse. If you're a fan of hard and fast music, this is the fest for you.
I was pretty disappointed that we didn't get to see The Gaslight Anthem. They aren't heavy metal, but they are an amazing band and I like them. We could hear them from the media center and reports from other journalists confirmed for us that The Gaslight Anthem's show was great.
And that brings up the challenge and sometimes frustrating fact about festivals; you don't always get to see every band that you would like. And it's not just us journalists who end up doing interviews or otherwise engaged in work, the fans can miss out as well. Such as when Black Flag plays at the same time as Blink 182. But there's not a complaint there, it's just the facts, and, well, it's a festival that offers the most bang for your buck. So we just have to deal with it.
Here's a recap of some to the bands we saw on Day 1 of Amnesia Rockfest:
Taking Back Sunday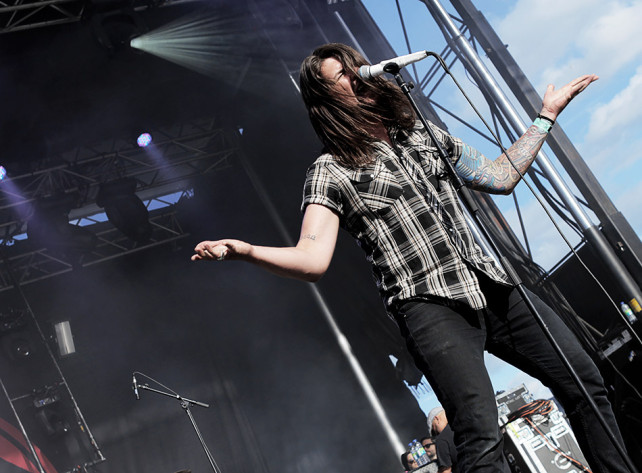 Taking Back Sunday is not a band that we typically cover, but their live performance was nothing short of amazing. Lots of charisma, lots of energy, and, well, they attract lots of girls. We actually sat down with singer, Adam, for an interview, so watch for that on Yell! Magazine. Adam creates a great repore with the audience, and his stage persona, which is nothing like how he is in person in terms of his mannerisms, conjures memories of INXS' Michael Hutchence.
---
NOFX
NOFX played just before Taking Back Sunday, so we only caught a few songs from a distance since we had to make our way to the TBS stage and set up for the photo pit. Again, I really wish we could have caught this show in its entirety, as it sounded incredible.
---
Five Finger Death Punch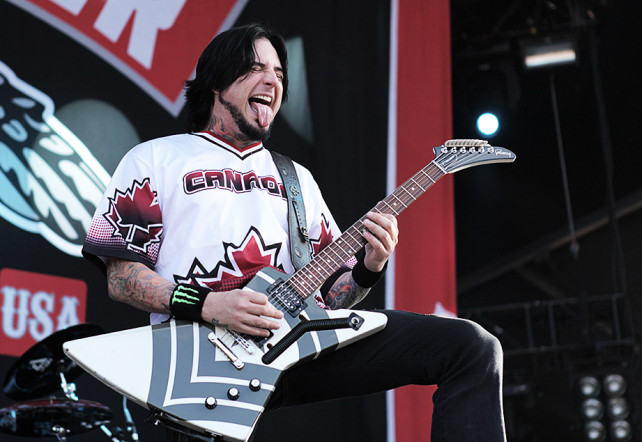 My disdain of this band is well-documented, but I have to eat some of my words. While their generic, thick-like-honey brand of music isn't for me, they play really well and are a band for the crowd. Their sound is aimed to please, their music isn't overly complicated, and they love the fans as much as the fans love them. Additionally, vocalist Ivan Moody genuinely looks like he has fun and really enjoys interacting with the audience.
---
Megadeth
Obviously, as one of my favorite bands of all time, Megadeth was amazing to see. Honestly, the last time I saw them I wasn't wholly impressed. Something just seemed off. But their performance at Rockfest was 100% kickass, savagely blasting their way through the best of their catalog. Dave Mustaine had a moment of ranting though, complaining about the two adjacent stages with bands performing at the same time:
Sorry about the bands playing on the two other stages. This is bullshit. You guys deserve better.
I didn't notice until he said something. I can see how it could be annoying for the artists on stage, but as long as the band whose stage you're in front of is playing, you couldn't tell. Also, I never heard anyone complain about the situation, so I'm assuming it was a non-issue for festival goers.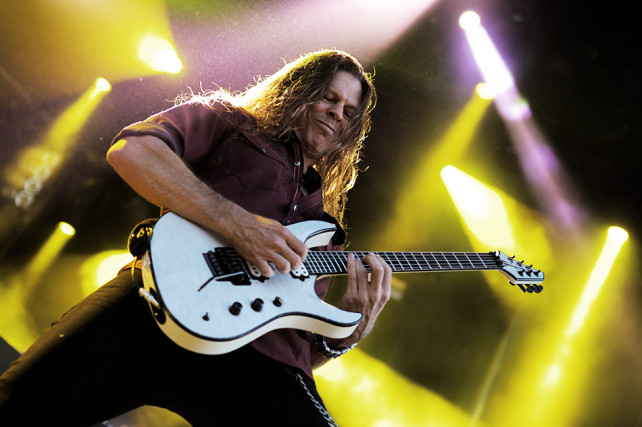 ---
Weezer
Honestly, I haven't paid attention to Weezer since the '90s, but holy fuck were they good. In essence, they are just a wholesome, all-American band that likes to have fun. I love the modest Van Halen influence that gets hinted at every once in awhile in Rivers Cuomo's guitar work (and obviously the Weezer logo is totally inspired by Van Halen's logo). Also, the finish these guys did was amazing, with all the band members picking up a pair of sticks and banging on the drums.