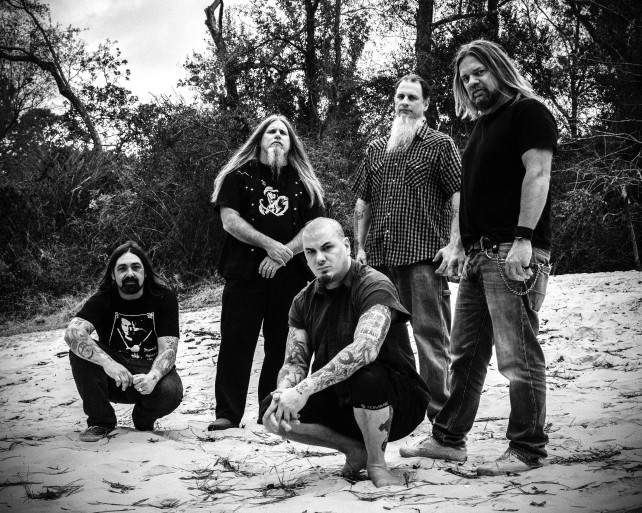 Down is a supergroup that formed in 1991, between Cowboys From Hell and Vulgar Display of Power, for those of you keeping track at home. Comprised of Pantera's Phil Anselmo, Corrosion of Conformity's Pepper Keenan and Kirk Windstein, Crowbar's Todd Strange (replaced by Rex Brown and then Patrick Bruders), and Eyehategod's Jimmy Bower, Down brought a heavy, sludgy, swampy, Southern-infused Doom Metal to the scene that made you want to take reprieve from a hot, sweaty, humid day with a cold beer, a joint, and some tree shade.
Unabashedly drawing on their inspiratin from Black Sabbath, but totally doing their own thing with it, Down has produced three full-length albums (NOLA, Down II: A Bustle in Your Hedgerow, Down III: Over the Under) and two EPs (Down IV Part I: The Purple EP, Down IV: Part II) since their formation. The EPs are a part of a series of releases, and Part II was just released on May 13th, when I spoke to Jimmy. At the time, Down was on tour with Black Label Society, which led to some nice surprises for Pantera fans.
Buy Down IV: Part II at Amazon: CD – $8.99 or MP3 – $6.99
Check out our interview with Jimmy Bowers.
---
How are you feeling about the Down IV, Part 2 release today?
I think it's awesome, man.
How has the response been so far?
We've been playing "We Knew Him Well" and "Conjured," and the response seems to be really good, man. Totally confident abou this EP.
Is there anything different or that you're particularly proud of on this EP?
Well, first off, Bobby [Landgraf] is in the band now, and I think that Bobby added a lot to the mix. I don't know, it was a really fun EP to make and we just kinda went in there. On the first EP, some of the songs were older songs that were left over, but on this EP it was just all fresh, brand new songs. What a great way for Bobby to get his footing in the band by writing a record with us.
Phil Anselmo had said that Bobby breathed some new life into the band. Could you elaborate?
We've been down that road before as far as people leaving the band. [When] you get some new blood in the band, you roll with it. You know? Bobby's such a great dude; he's family to us. He's been our stage manager for like five years and also plays guitar in a band called Honky, so it just made sense. It's been working out good; he's a really good player and he and Pepper [Keenan] play really well together. Sounds like Down again, man.
What's the mentality behind doing a series of EPs instead of a full-length?
I think Down has the capability of writing a lot of different styles of songs, so the idea behind it was to reflect that and with EPs. We're already looking forward to the next one and hopefully we'll go a little more experimental on it.
Progressive experimental or something different?
I don't know we haven't experimented yet (laughs).
So basically nothing has been written yet?
There's some ideas out there, but nothing in stone.
How does it work with Down: do you guys sit down, write the music, bring riffs together, and then Phil comes in and puts in the lyrics?
Well, Phil lives outside the city. We kinda practice at home — like for the second EP me and Pat [Bruders] would be bored and just sit around and write some stuff and four-track it, and we brought that into the guys and they really dug it. So there's that and then we'll head over to Phil's and start recording, and Phil's always got riffs. That's the cool thing about Down, everybody writes.
You said that you've been playing "We Knew Him Well," which just had a video drop for it, can you tell us who Him is?
Anyone you want him to be (laughs).
Phil is sporting a beard in the video, and I think that's the first time I've seen him with a full beard; what are you thoughts on it?
Looks pretty, don't it? (laughs) I think a beards a beard.
What do you think about the trend of everyone growing a beard these days?
I have one because I'm lazy. It's more convenient to grow a beard (laughs).
You're on tour with Black Label Society (BLS) right now, how is that going?
Great, man. I think the combination of the two bands is a good thing, and it's just fun, man. We're having a really good time with it. Everyone's really cool.
Being that Down is heavy influenced by Ozzy and Black Sabbath, have you guys drilled Zakk for Ozzy stories? Or do you know them all already?
(laughs) No, no, no, it's a pretty busy day. I've only had a couple [chances] to talk to Zakk, but, yeah, it'd be fun to hear some stories.
What is Jimmy Bower's guilty pleasure when it comes to music and what his first Heavy Metal memory is, after the jump…