Short of gaining dictatorial rule over a nation, directing a Star Wars movie is second highest honor that one can receive. I imagine that it's the golden ticket in the chocolate bars of Hollywood. Directors hastily rip open their envelopes (or click on their smartphone email apps) and discover whether or not they get to play around in the classic struggle between Empire and Rebellion, or direct the straight to DVD sequel, John Carter of Mars 2: The Lost Planet.
In this case, Gareth Edwards, mostly known for directing the recent smash hit remake of Toho's Godzilla, has that golden ticket, and it's not just for any normal Star Wars film. No, he gets to direct the first Star Wars standalone film, from a script by Gary Whitta (The Book of Eli). These standalone films will offer "new stories outside of the core saga," and personally, my twelve-year-old self and I are looking forward to one about Boba Fett. You know how you can tell when the magic has died in someone's eyes? When that someone tells you that they wouldn't be excited about a Boba Fett movie.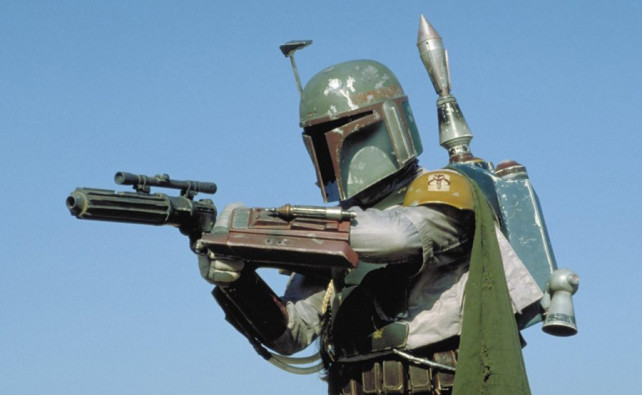 This standalone film is set to release on December 16th, 2016, which gives you just enough time to hate a casting choice, liken the standalone film to X-Men Origins: Wolverine, and then come back around to liking it in time for the first trailer. Though, if we're being honest, this new standalone film will probably have the same amount of Ryan Reynolds. I'm just trying to be pragmatic about the whole thing.
AND THAT. ISN'T. ALL.
I did a review of Godzilla a few days ago, and I was a little harsh. I basically took my movie ticket and peed all over it in disgust. Now that I've had time to think about it, and have seen the movie again, my opinion of it has improved. It's not perfect overall, but I'd be doing the film a disservice if I said that it completely lacked merit. From the way that my review read, you'd think that Gareth Edwards came to my house to break my movie collection and then laugh maniacally as he watched me try to do pull ups. Godzilla has some really amazing sequences, and while the atmosphere kind of stutters throughout, the climax is a masterpiece of monster cinema.
But after Edwards gets done with his time with Lucasfilm and Disney, he's going to come back for the second film in a confirmed Godzilla trilogy. I know that the people in the world who will never, ever be happy are spouting "Why does everything have to be a trilogy?" but what better film to give a sequel to than Godzilla? The amount of monsters and stories to choose from when dealing with the Big G is nearly endless. Hell, I hope Legendary Pictures goes past the trilogy and takes on Toho's mantra when it came to these things: "Money willing, we're going to make sequels until the end of time."
More Godzilla, and standalone Star Wars stories? To quote Swizz Beatz "Everyday birthday!"