Directed by Jeremy Lovering Written by Jeremy Lovering
Starring Iain De Caestecker, Alice Englert, Allen Leech

85 mins - Horror, Thriller, Mystery - Release date: 11 March 2014 (DVD)
Jeremy Lovering's In Fear is a refreshing take on the home-invasion flick (Lovering's words), but it's just as much a haunted house/poltergeist-type of film and an extension of the hook-on-the-car-door urban legend. Whatever it is, it'll have you on the edge of your seat screaming "get back in the car" or "don't go there" or "get out of there" or "now's not the time to get smashed."
In Fear is a tension-filled horror/thriller of the mind that tells the tale of Tom (Iain De Caestecker – Marvel's Agents of S.H.I.E.L.D.) and Lucy (Alice Englert – Beautiful Creatures), two virtual strangers and potential lovers driving through the Irish countryside on their way to a music festival. So far so good, but one obvious fault in this is that the characters don't talk about music or bands and they don't listen to any music on the stereo. I get that they're practically strangers, having met only once before, and are using their alone time to get to know each other, but more often than not people tend to talk about music in these circumstances — especially when they're on their way to a music fest!
That issue aside, Iain and Alice turned in amazing performances, which is owed in part to Lovering's direction; if you've kept up with our coverage on Yell! Magazine and/or watched the special features on the DVD, you'll know that neither actor knew the outcome of the film. As a result, their performances were on-edge, visceral, and rife with distrust.
But these two aren't just on their way to a music fest. Tom has booked a night at a remote and romantic hotel along the way. When he proposes the idea, Lucy, somewhat surprised, bashfully accepts the invitation. As they follow the signposts to the hotel, they get lost. More accurately, they've entered a maze and unwittingly become a part of a twisted game of cat and mouse.
If we're going to force a moral-of-the-story aspect on the film, it could be not to be as presumptuous as Tom or, if you're Lucy, to not accept such invitations from practical strangers.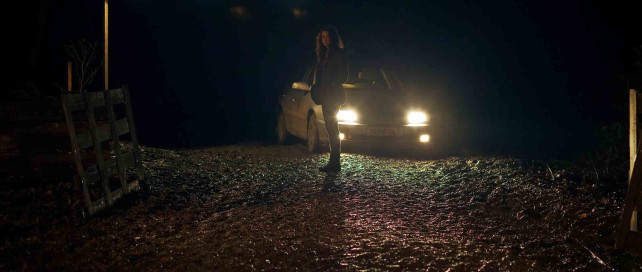 Any movie like this, in which the characters are lost in a maze or puzzle, is going to remind me of films like Cube or House on Haunted Hill, or maybe even SAW.
The Verdict:
In Fear is a solid, straight-forward and mostly linear thriller/mystery with great performances. The claustrophobic element is definitely scary, but what's freaky and terrifying about this story is that it could happen, and that's the worst kind of fear.