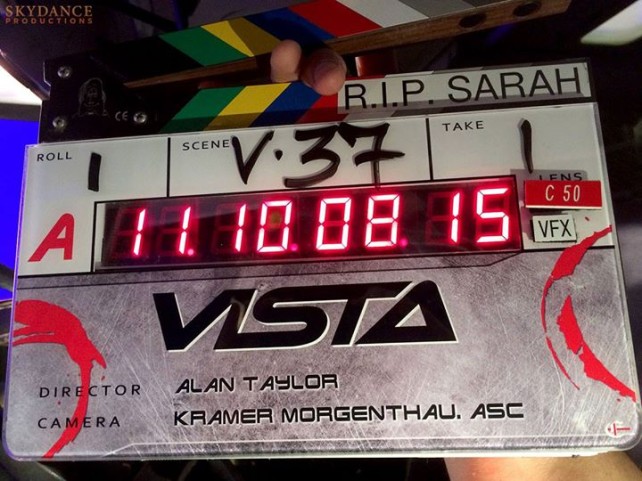 Boom goes the dynamite! Terminator: Genesis has officially gone into production as of yesterday, according to a Facebook post by Skydance Productions. The company that picked up all the rights to the Terminator franchise after previous owner, The Halcyon Company, was forced to declare bankruptcy and production for a new film was put on hiatus in 2010.
That was all completely in the past, and things are finally rolling with cameras for Terminator: Genesis, which will serve as the first installment in a fresh reboot. Skydance shared a picture of a slate that features director Alan Taylor's name on it, including a label that reads "R.I.P. Sarah" for the "Slates for Sarah" movement.
The following message was also attached to the post:
SKYNET preparation routines complete. Initialization sequence complete. Reboot initiating in 03m00s.
At first glance, I personally got duped into thinking that Alan Taylor may be shooting a scene of the death of Sarah Connor, but clearly that's a stupid assumption since it would be ridiculous if the mother of the man that is trying to save humanity from SKYNET would get knocked off Sopranos style in the first film.
Anyhow, filming for Terminator: Genesis is definitely on, and expect the film to drop in theaters mid next year.