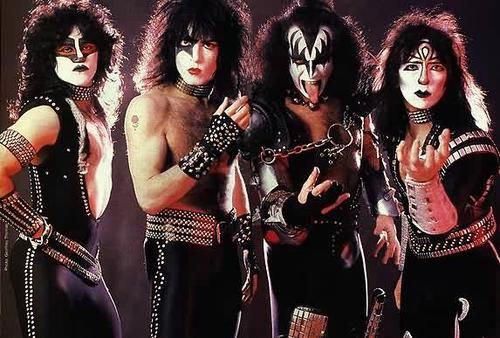 It's been a long time coming, and KISS is finally being inducted into the Rock and Roll Hall of Fame. You'd think the band would be ecstatic about the news after 15 years of eligibility, but they're not, as Paul Stanley expressed to Classic Rock Magazine when asked if he was happy to be nominated:
No. It means a lot to the fans and I understand it because it's validation for them. So for that reason I accept graciously and accept on their behalf.
But the displeasure with the HOF institution hasn't been the only blithe that's mired KISS' nomination. There have been various accounts of the story, but KISS and the HOF have apparently butted heads over who will be inducted (notably, only the original four are being given the honor) and about a live performance with the original members.
In the end, there will be no live performance. And while only the original four are being inducted, all surviving members of KISS will be sitting at the same table. Personally, I'd love to be a fly at this table to see how Gene Simmons, Paul Stanley, Peter Criss, Ace Frehley, Bruce Kulick, Eric Singer, Vinnie Vincent, and Tommy Thayer conduct themselves together.
Kulick told Rolling Stone that he's extremely happy that KISS wants him at their table. By contrast, prior to receiving the invite, Singer told Rolling Stone that he didn't really care about attending, but would do it if Gene and Paul wanted him there.
The induction ceremony takes place at the Barclays Center, Brooklyn, NY, on April 10th, and HBO show the event in May.
Read More: Current + Classic KISS Members to Be at Rock Hall Induction | http://loudwire.com/kiss-members-share-table-rock-and-roll-hall-of-fame-induction/?trackback=tsmclip
What do you think about only the original members being inducted? Certainly, other members have played an important role in the history of KISS, right?
Rock Hard \m/