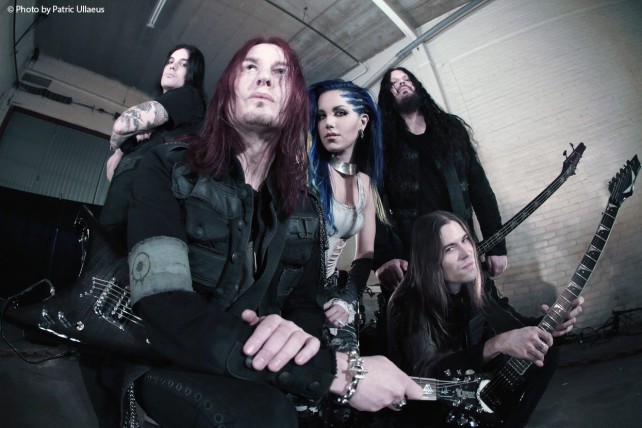 In a statement released today, long-time frontwoman of Arch Enemy, Angela Gossow, has stepped down from her position behind the microphone and handed it to The Agonist's Alissa White-Gluz. Gossow has been with the band since 2001's Wages of Sin.
Arch Enemy will release their ninth album, War Eternal, this June, taking the opportunity to introduce White as their new vocalist. While it is heartbreaking that Gossow won't be fronting the band any more, there's certainly no sour grapes as she will be managing the band's business affairs (plus she's married to Michael Amott, guitarist).
White is obviously thrilled about the opportunity. As revealed to us in an interview with White a couple years ago, she and Gossow are friends, so we know it's not a random selection. In fact, Gossow helped White develop vocally, so you can assume that there's been some coaching done already.
Arch Enemy has stated that a new song will be released this week.
How do you feel about the change in the lineup? Post your comments below.
Here is Angela Gossow's official statement:
[sic]
Dear Arch Enemy fans, this is not easy to tell you…I have decided to step down from being Arch Enemy's voice of anger. After 13 years of pure fucking metal, 6 studio albums and countless tours through five continents, I feel the need to enter a different phase in my life, be with my family and pursue other interests. I will however remain business manager for Arch Enemy, and I will continue to develop my artist management roster.

I am staying true to my heavy metal roots, just leaving the spotlight so to speak. I am passing the torch to the super talented Alissa White-Gluz, whom I've known as a dear friend and a superb vocalist for many years. I always thought she deserved a chance to shine – and now she's getting it. Just like I got that chance back in 2001.

I want to thank all Arch Enemy fans, our labels Century Media (worldwide) and Trooper Entertainment (Japan), our dedicated road crew, and in particular Michael, Daniel and Sharlee for their love and support throughout all these years. It's been one hell of a ride! We conquered every situation, made it through thick & thin together in the most exciting and rewarding time of my life. Thank you all for being there with me on stage, in front of the stage, and backstage. You have touched my heart, and I hope I was able to give something back to you. I am grateful for the wonderful memories – I will cherish them forever!

I am looking forward to the next decade of Arch Enemy madness! Right now I am listening through rough mixes of the new studio album and I am blown away! 2014 will see a renewed Arch Enemy at the top of their game. I am proud to be part of this Arch Enemy chapter, albeit in a different way – revving up the engines behind the scenes. I hope to see you in front of the stage, I will join you there this time. Let the killing begin, once again!
And here is Alissa White-Gluz' statement:
[sic]
I am very honored and happy to announce a new chapter in my life and musical career beginning now; I have joined forces with one of my all-time favorite and globally respected bands, ARCH ENEMY. 'Wages of Sin' was the first metal album I ever bought, and it was love at first listen. It is not often that you get a phone call from your favorite band asking you to join! I am thrilled to have the opportunity to work with such amazingly talented musicians whom I also consider great friends. I look forward to being able to write and perform at a whole new level now with ARCH ENEMY! Music is forever, metal is limitless and this is only the beginning!
Rock Hard \m/