Shelly d'Inferno is a heavily tattooed alt model who draws huge amounts of inspiration from the horror genre and heavy metal, as she explains in her interview with our own Hell's Temple. Since this sexy Swede started modeling, she's won a couple competitions, including the HowCool.com modeling contest in 2010, and she's landed a number of industry-favorite magazine covers, such as Living the Dream, Bizarre Magazine, Terrorizer Magazine, Skin Deep, and more. As with many of her alt peers, she sort of fell into modeling, and modeling isn't her only trick. We'll let her explain in the interview.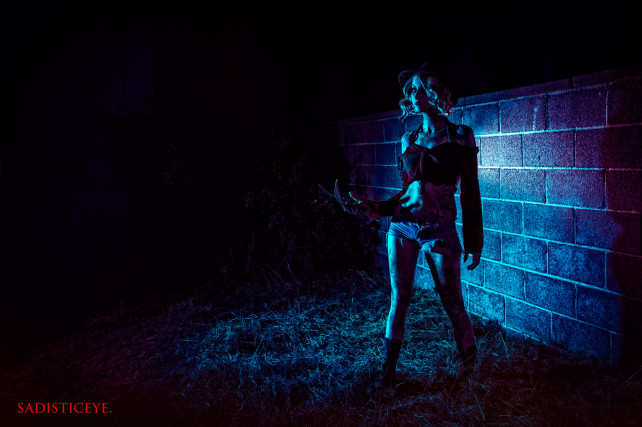 ---
When did you decide that you wanted to be a model?
I actually started to get into modeling when I was only 14. Me and my friends wanted to have photos like our celebrity role models so we would hang our own backdrops, do our makeup, dress up in fancy clothes, and pose for photos that we then had to wait a week to see. Digital cameras were not an ordinary thing back then. Anyway, we kept doing this through the years and it got more and more creative. I first started modeling for "stranger" photographers in 2009, when it slowly became more of a "career" turn, but its been a part of my life since 14!
I've noticed a lot of your shoots are horror themed. Tell me about some of your influences in regard to the horror genre.
I've always had a thing for creating different characters, be it horror, sci-fi, or fantasy. When I see films or read books I sometimes enjoy them so much I want to be in that world, so I get inspired and picture my own characters, which I sometimes turn into photo shoots. Evil can show a lot of power and I like that, and for some reason when I shoot horror I feel very empowered. The band Cradle of Filth always gave a lot of inspiration for my horror shoots for some reason, their lyrics are very powerful and makes me picture evil queens, goddesses, and monsters. I always love to check out the makeup from zombie films and also enjoy the designs of a lot of end-game bosses in computer/video games
What are some shoots that you've done that incorporated the horror genre?
There are a bunch of single shots I've snapped myself which haven't been full sets. For example, one photo where I interpreted Nick Caves song "Where the Wild Roses Grow" from his Murder Ballads album where a man murders a woman because of her beauty. Anyway, the bigger full sets have been a couple zombie shoots, vampire shoots, a mummy, and a recent fun one was a Freddy Krueger shoot where I was a female Freddy. I named her (myself) Casey Mae Krueger. She was part redneck, part Krueger! (laughs)
Earlier you mentioned you liked Cradle of Filth. Tell me about your love of Metal.
I like when bands combine monstrous screaming/growling with angelic melodies. Theatre of Tragedy is another goth metal band I love.
Tell me about your tattoos, do you have any themes?
I stick to black and gray. I think when you're planning to get a lot of tattoos its an important choice to either stick to black and gray or go full color. Personally I prefer black and grey as body art, though for just the effects of the art, color can look much better. All my tattoos are either things I have a huge love for/am fascinated by/means something. I got too many to go through them all, but I've got claws, a bird skull, portraits of my favorite musicians, favorite words, a compass rose, a big pirate ship, and a dream catcher. I love Indian style tattoos; I have one covering my hand and I'm planing to tattoo my whole leg in that style.
Sounds like you have a plan. How old were you when you received your first tattoo? Did you start with your theme then?
As soon as I turned 18 I went to get my first tattoo and guess what it was… two stars on my hips, how very original! (laughs) They were actually red and black, so it was after them I decided to stick to black and gray. But those are the only color tattoos I've got, so it still looks alright.
Tell me a little about your fashion designs.
I took a three-year fashion degree in Sweden, where I was born (I live in London), where I learned pattern cutting and everything I need to know about tailoring, but for some reason I found it more interesting to remake and recycle garments. So my fashion brand Heavenly Inferno is all about recycling stuff. Old broken things become new interesting things! I do casual punk-rock-inspired clothing, I do custom orders, stage wear, and this year I'm releasing a post-apocalyptic collection called "Rummagers." It's all about clothing remade out of recycled unwanted material. There is some rather interesting pieces, such as boots made into necklaces and corsets for example. My clothing would make it big in a post-apocalyptic environment!
What was your biggest inspiration that has led you to be who you are today?
I absorb inspiration from so many different things that it's hard to say a few certain things. My Mum plays a big part of it though, she's the only one I really trust and look up to and I'm so lucky to have been placed in her womb, hah! I also have to say I've been surrounded by people who have accepted and encouraged my creativity all my life. I've been lucky with friends, schools, and jobs.
If you could give one piece of advice to upcoming models, or anyone in general, what would you want to tell them?
For an upcoming model, self-promotion is the key. The more you promote yourself, collaborate, spread your work, and share everything you do, the more people will recognize your work. For anyone in general? Be honest and loyal and good to the people you want to keep around you. Give as much as you can and try and keep your expectations as low as possible. Learn to appreciate yourself for being good to others and get happiness from that! (and watch the film Pay It Forward!)
---
You can keep up with Shelly d'Inferno at or on:
Facebook
Twitter
tumblr
Instagram