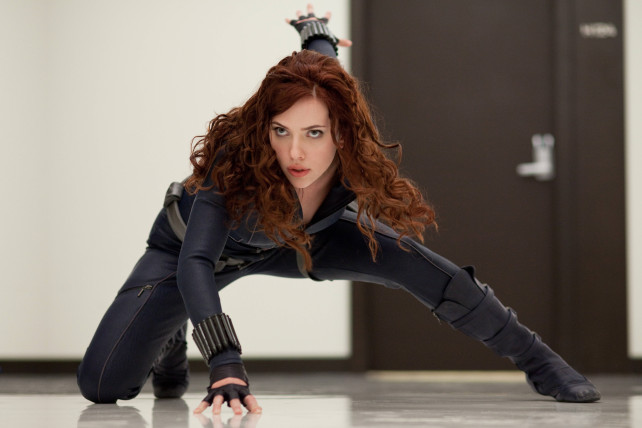 She first appeared back in 1964, in Tales of Suspense, and Scarlett Johansson brought her to life in 2010's Iron Man 2, now it's been officially stated that there are plans to give Black Widow (aka, Natalia Romanova) her own movie.
So after appearing in Iron Man 2, The Avengers, the upcoming Captain America: The Winter Soldier, and 2015's The Avengers: Age of Ultron, here's what Marvel Studios President Kevin Feige had to say to Variety about the Black Widow-centric movie:
Black Widow's part in [The Avengers: Age of Ultron] is very big. We learn more about her past and learn more about where she came from and how she became in that film. The notion of exploring that even further in her own film would be great, and we have some development work with that. When we meet the Avengers at the top of Age of Ultron, it's a very different landscape than we left them at the end of the first film. Partially, that's because we love the rhythm that the comic books have developed — each of the characters appear in their runs, occasionally they get together for a big event or crossover series, they part again, and then they come back together again.
Beyond the word that there will be a Black Widow movie, there aren't any other details to report. We'll keep you posted though, so keep it locked to Yell! Magazine.
With DC having plans to bring Wonder Woman to the big screen, having Gal Gadot signed on for the titular role, it seems that the race is on to see who will first bring the next female-centric comic book heroine to the big screen. Persoanlly, I hope Wonder Woman wins the race, but at the same time I think Marvel has a much easier task ahead of them — it's far easier to screw up a Wonder Woman story.
In the end, however, I'd like to see more of these comic book movies led by a female character. There's been a shift in geekdom, we all know that, and there are plenty more females into comic books these days than there used to be, so it would make sense to appeal to them in the theaters as well — that is, if there's a correlation between the sex of the character and the sex of the fan.
What do you think: More female-led comic book movies?
Rock Hard \m/