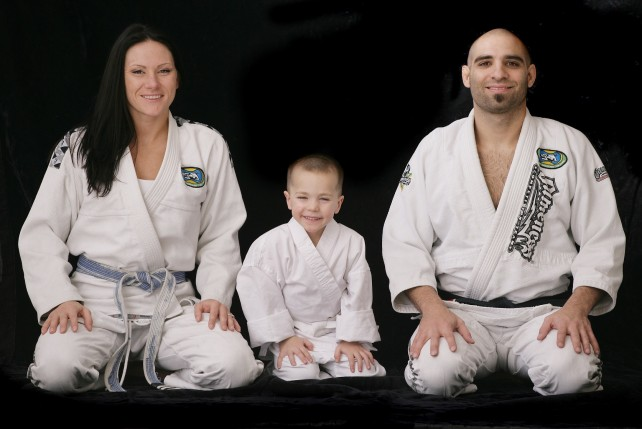 Tragedy struck in the life of undefeated UFC Women's Bantamweight star Cat Zingano (8–0) on Monday night after her husband and former mixed martial artist, Mauricio Zingano, was pronounced dead at age 37 in his Colorado home at 8:31 p.m. Apparently, Mauricio was struggling with the break-up of his three year marriage with Cat, according to numerous reports from media outlets, which is hinting at a possible suicide.
Cat's manager, Jorge Guimaraes, confirmed the tragic news yesterday:
Yes, he hanged himself in Denver on Monday. It's something unexplainable, [I] do not know what may have motivated him to do so. We were together and he was fine, had plans and a lifetime ahead. It's a tragedy. I'm going to Denver today to assist Cat, who is devastated, does not know what to do.
Cat is currently recovering from knee injuries she suffurred while doing a routine workout before The Ultimate Fighter Season 18, forcing her to go under the knife. She is still ranked the No.1 contender in the women's bantamweight division, and Sara McMann (7-0) replaced her in the upcoming title fight with Ronda Rousey (8-0).
Our deepest sympathy goes out to Cat and her family, we wish them all the best.
---
Cat's Full Statement
Late yesterday evening, I learned that my husband and soulmate of seven years, Mauricio Zingano, has passed away.

My life has changed irrevocably. I am shocked and deeply saddened. Thankfully, my family and friends are coming together to provide the support I need. I am grateful for them, as I know there are many difficult days ahead.

I also very much appreciate the outpour of support from the jiu-jitsu and mixed martial arts world. My husband was well known and respected in this close-knit community and I know he would appreciate everyone's thoughts and prayers, as do I.

At this time, I respectfully ask everyone to give me privacy as I gather with relatives and friends. Again, I give thanks to all for the kind words and support.

Sincerely,
Cat Zingano