Directed by Takao Nakano Written by Takao Nakano, Rei Mikamoto
Starring Sora Aoi, Risa Kasumi, Mari Sakurai

73 mins - Action | Comedy | Horror - Release date: 16 July 2010 (USA)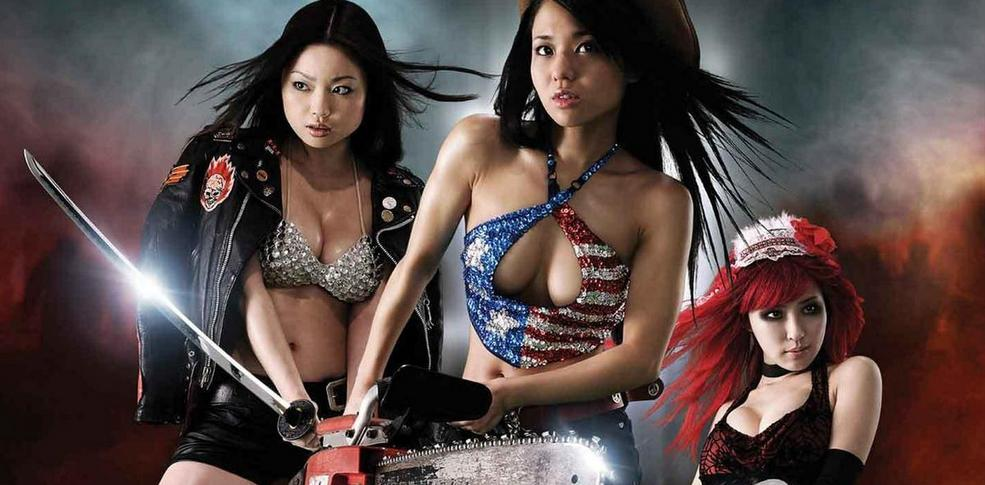 If you're a fan of Japanese AV Idol Sora Aoi, then Big Tits Zombie might be a little tame for you. But if you would like to watch her with her clothes on (mostly anyway) hacking apart zombies with a chainsaw and an attitude, then this Takao Nakano horror/comedy is perfect for you.
Depending on your level of interest in Japanese slash/gore/sex cinema, you may remember Nakano as the guy who brought us awesome films like Hop Step Jump!, Sexual Parasite: Killer Pussy, and Sumo Vixens. No worries on missing those films though, as Big Tits Zombie (aka, The Big Tits Dragon) is Nakano's best.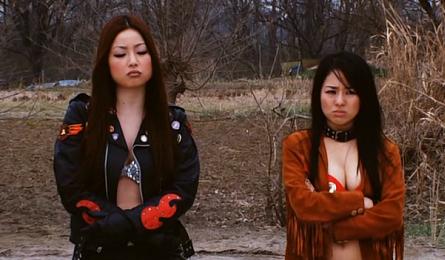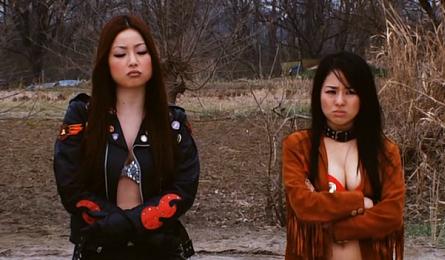 The story centers on Lena Jodo (Sora Aoi), an "entertainer" recently returned to Japan from Mexico. Out of work and out of money, she receives and accepts a job proposal from a former employer. Joining four other dancers at a rundown and unpopular club in the middle of nowhere was not what Lena had in mind, but beggars can't be choosers.
The girls, who include Darna, a money-crazy pinay looking to send money back to her family in the Philippines (played by Io Aikawa), Maria, a rock-loving goth girl with a jealous and evil megalomaniac personality (played by Mari Sakurai), Nene, the elder and mother figure of the bunch (played by Tamayo), and Ginko, the tattooed and gorgeous rival and partner-in-killing of Lena (played by fellow AV star Risa Kasumi), discover a hidden door in the wall of their dressing room. It leads to a basement containing a ancient book and a secret well.
Before taking stock of their situation, Maria reads aloud part of the book and the dead come to life. Other of the undead escape from hell up through the basement well after the women have left. When Darna later returns to the basement to retrieve money she found and hid before the other girls discovered it, she is attacked and devoured by the well-escaping flesh eaters.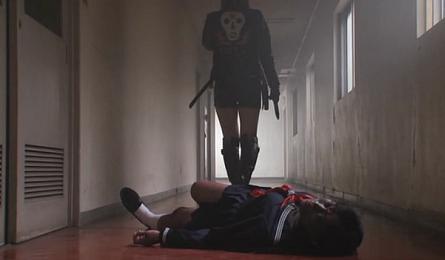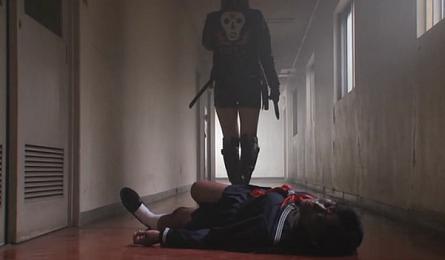 Darna is not the only one of the girls unable to survive. When zombies invade the strip club from the outdoors, Nene gets bitten. The four girls rush back to their dressing room where Maria betrays them. Thinking she can escape to the basement, Maria jumps into the stairwell and locks the door behind her leaving Nene, Lena, and Ginko to fend for themselves.
The girls battle their way outside and escape in the club van. Meanwhile, Maria discovers she has trapped herself in a room full of the undead and has no way to escape. But with her possession of the book, she is able to control the flesh-eating crazies and begins to form an army of the undead bent to her evil will.
This sets up the final confrontation between Maria and her zombie army versus Lena and Ginko. Good triumphs over evil, but at a cost. Maria may have been dispatched, but Ginko is bitten by her dead younger sister.
Lena, now in possession of the book, returns to the club to get the money she is owed from the owner. The movie ends with Lena summoning Ginko from the other world to take possession of the girls' earnings from the greedy club owner.
There is no hiding the fact that this film is juvenile. The acting is mediocre and the script sophomoric, which is why it's so much fun. Add the facts that you have lots of blood, guts, and hot Asian chicks wearing little clothing, and you can understand why we at Yell! Magazine love it. A film that shows why a good set of knockers and lots of the red stuff goes a long way in having a film conquer its artistic shortcomings.