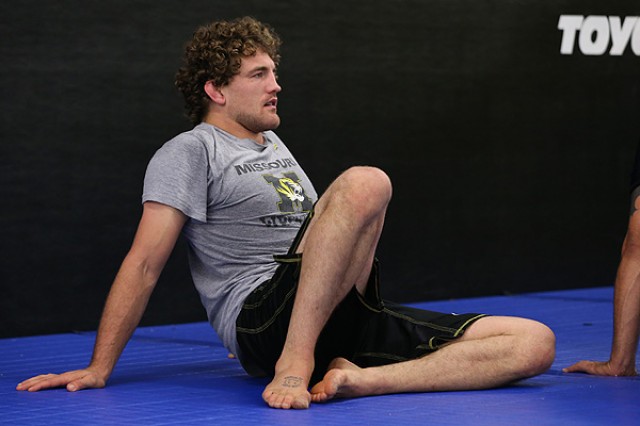 Last Monday, it was reported that former Bellator Welterweight Champion Ben Askren (12–0) was going to meet with UFC President Dana White to talk about a future contract in the UFC — a contract that would potentially allow Askren to jump right into the Octagon with a top 10 UFC welterweight contender like Rory MacDonald. Askren also laid it out loud and clear that he was willing to even fight for free if he lost the fight.
Despite all his efforts so far, White has declined to sign the kid to the UFC, according to MMA Junkie.com prior to Saturday's night TUF 18 Finale:
The meeting went well. He's a nice kid, I've got nothing against him … (but) we won't be signing him at this time.
White feels Askren should prove himself in World Series of Fighting (WSOF) before fighting in the UFC. However, Askren previously showed no interest in signing a contract with WSOF:
I think it's crazy that he's ranked in the top 10 — he hasn't fought anybody. He has no challenges (in Bellator). The best thing that could happen to that kid is leaving Bellator. Now he's got the opportunity to go to World Series of Fighting and show what he's got.
The word on the street now is that Askren might be heading to ONE Fighting Championship, a Singapore-based mixed martial arts that is known to have a roster with some of the best fighters in the world.
Nothing is official yet, but we'll keep you guys updated on his next move. Stay tuned!