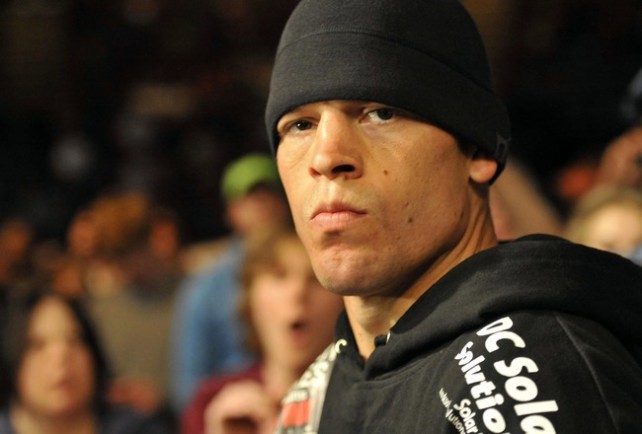 After two consecutive losses in the UFC, the Stockton bad boy, Nate Diaz, (17–9) put his career back on track last night at The Ultimate Fighter 18 Finale, and settled his score in brutal fashion with Gray Maynard (11–3–1). Diaz demonstrated again that he's still a force to be reckoned with at 155 pounds. Fortunately, the grudge match was short and sweet for Diaz, arguably one of his best performances yet.
Diaz got off to a good start in the first round, scoring a beautiful takedown on Maynard and once they got back up Diaz stepped up his game and showed off his classic boxing skills. At that point, the hands of Diaz were too fast and accurate for Maynard, landing 20 punches too many on his face. The referee ended up stopping the fight at 2:09, giving the win to Diaz by TKO in the first round, which earned him his first Knockout of the Night bonus.
Afterward, Diaz nixed the idea of going back up to 170 pounds (welterweight) and wants to wait around in lightweight for an injury to pop up to get another shot at the title:
I do have a lot of losses on my record, and other people have a lot criticism and shit to talk about me losing fights. But if you take a look at my record compared to other people's record, for every two fights, I've fought six, seven times. So if they're fighting the same amount, and more consistent like I am, they're going to have more losses than me. So maybe I'll sit around for a while and wait for an injury to pop up.
As for other notable fights on the main card, Julianna Peña became the first female Ultimate Fighter in the women's bantamweight division after defeating finalist Jessica Rakocz by TKO a second before the first round ended. The referee stopped the fight because Rakoczy was taking too many blows to the face from punches and elbows.
In the men's bantamweight division, the battle between Chris Holdsworth and David Grant from TUF 18 was just as exciting and entertaining. Holdsworth took out Grant by locking in a rear naked choke in the second round at 2:10, taking the win and earning him the Submission of the Night bonus.
For more Ultimate Fighter 18 Finale results, follow the list right below.
---
Main Card (Fox Sports 1)
Lightweight Nate Diaz def. Gray Maynard TKO (punches)
Women's Bantamweight Julianna Peña def. Jessica Rakoczy TKO (punches & elbows)
Bantamweight Chris Holdsworth def. David Grant Submission (rear-naked choke)
Women's Bantamweight Jessamyn Duke def. Peggy Morgan Decision (unanimous)
Women's Bantamweight Raquel Pennington def. Roxanne Modafferi Decision (unanimous)
Preliminary card (Fox Sports 1)
Featherweight Akira Corassani def. Maximo Blanco DQ (illegal knee)
Featherweight Tom Niinimäki def. Rani Yahya Decision (split)
Heavyweight Jared Rosholt def. Walt Harris Decision (unanimous)
Welterweight Sean Spencer def. Drew Dober Decision (unanimous)
Preliminary card (Facebook)
Catchweight Joshua Sampo def. Ryan Benoit Submission (rear-naked choke)
---
Bonuses ($50,000)
Fight of The Night: Josh Sampo vs. Ryan Benoit ($100,000)
Knockout of The Night: Nate Diaz
Submission of the Night: Chris Holdsworth