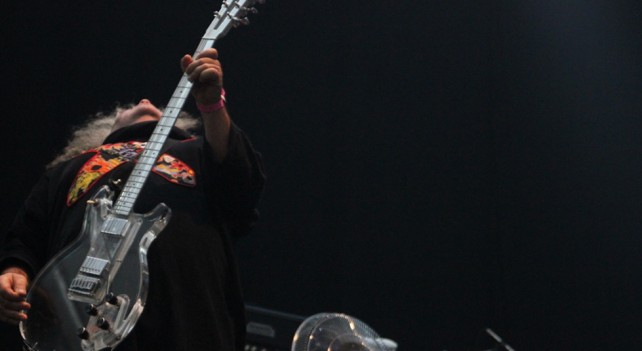 The Melvins have semi-reunited, the result of which is their latest album, Tres Cabrones, released November 5, 2013. Forming in 1983, the Melvins are just south of 20 studio albums and are often held responsible for influencing many of the drop-tuned, distorted, slower-tempoed genres, such as sludge metal, and for ushering in the grunge era. No, dickweed, it wasn't Nirvana, which brings me to my first point today.
Buy Tres Cabrones on Amazon: MP3 – $7.49 and CD – $10
Kurt Cobain Is Fucking Dead
Buzz Osborne and Dale Crover were recently interviewed by CoS, and while discussing money and how it's not a ticket to happiness, Buzz brings up Kurt Cobain:
Money is not an end-all to happiness. People have said to me, which I think is crazy, 'Do you ever get jealous that Kurt Cobain got fame and money?' And I go, 'Kurt Cobain is fucking dead. Are you kidding? What are you talking about? You think I would trade places with a dead guy?' Yeah, I wish I had been more famous, and had more money, and was dead. No, no, no. I win. I win. He doesn't win. He loses. He's a major loser. His fucking loss. He left a baby at the mercy of that woman. And, it couldn't be worse. There's nothing good about any of that.
Earlier in the interview, Buzz also said:
Cobain had that wounded-junkie look that people at MTV thought was so amazing. But, honestly, if him or Chris Cornell looked like Fat Albert, they'd never have sold anywhere near as many records. Nobody would've cared. The whole package was there. Whether people believe that or not, it does make a difference. I don't look like Chris Cornell, and I'm never going to. I've never had those false delusions. So, oh well, that's how it looks.
Seems that I'm not the only one looking down on Cobain's career and life choices. Buzz is speaking some very harsh words, but they're honest. These words are the ideas that I think many of us have running around in our heads, but just don't have the balls to say. Yeah, I was among the kids who loved Nirvana, and yeah they were the toast of the town, but if Cobain hadn't offed himself, Nirvana's legacy would faded faster than hair metal.
Find out where Buzz Osbourne stands on KISS legitimacy after the jump…