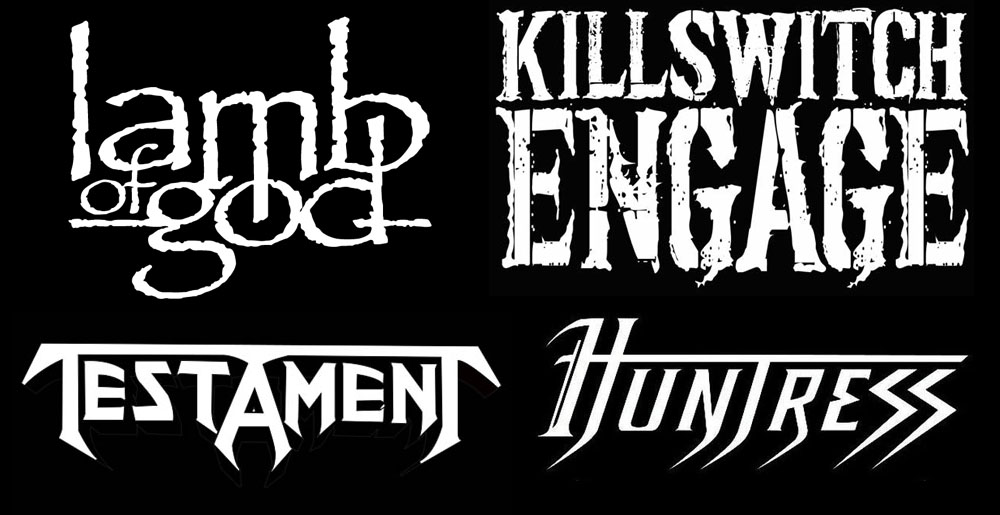 Hello, my fellow Metalheads! Hell's Temple here with another concert review! Now, before I start, you should know that there are only a few bands that, when you go see them live, it's nearly impossible to avoid the mosh pit. Lamb of God, Killswitch Engage, Slayer, Metallica, Anthrax, Slipknot…. those are just a few. The reason for this is because the entire crowd is the pit!
The Lamb of God/Killswitch Engage show at Chicago's Aragon Ballroom on October 30th was no different. The pit just seemed to creep closer and closer to us. It was quite entertaining, though, not to mention an emo kid got into a fight with a fellow Metalhead and failed.
All three bands — Lamb of God, Killswitch Engage, and Testament — played an epic gig and I was very pleased. It was my first time seeing Testament and Killswitch, and my second time seeing LOG — it was well worth it and I would definitely go see them again.
Now getting to the review, I will have to skip on reviewing Huntress, who was the fourth and opening act. We had a little accident on the way to the venue and we ended up being late, arriving at the end of their set. It's a shame, I would've loved to see them live.
Testament

Testament played a badass set. I was quite impressed. They've been rocking out since 1983, and don't seem to be letting up anytime soon. One cool thing I loved about the show was the fan appreciation. We also shouldn't forget that Chuck Billy sounds exactly the same as he did in the '80s, which a lot of metal singers from their era can't do anymore. Very few singers can still hit that pitch when necessary and have the energy to pull off an epic concert. Chuck was carrying around his own custom microphone that glowed like a lightsaber, and he was pretending to "air guitar" on it during the heavy riffs and guitar solos. It made me remember the people that would audition for "air guitar" competitions, except he was a lot better than what I've seen.
Testament went through some amazing songs, such as "Rise Up," "Native Blood," and "Disciples of the Watch." Each song was played well and was thoroughly enjoyed. There even was a mosh pit, which was very much appreciated. Usually when I attend concerts, everyone just stands around for the first few bands, which wasn't the case for this one. The guitar was well done and sounded great, sending epic guitar solos creeping through our spines. That squeal of lightning fast, high pitched notes brings music to my ears. Well done Testament, thanks for a great time!
Killswitch Engage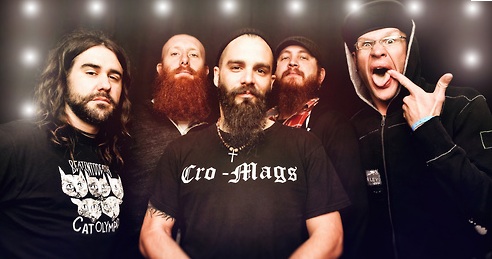 Killswitch Engage… memories were made that night. The crowd participation probably made this one an epic one, in my opinion, singing the chorus for nearly every Killswitch song. As mentioned, this was my first time seeing KSE, and as such it was also my first time seeing Jesse Leach lead the band. If you'll remember Leach is KSE's original singer, before Howard Jones. Due to some personal reasons about a year ago, Jones had to leave the band, which made room for Leach to audition to get back into his old band.
Adam Dutkiewicz turned the concert into a comedy gig within a matter of minutes. Making jokes, dancing around on stage while playing guitar, running all over the place, and even jogging in place like he was training for the Chicago Marathon. One thing that did make me laugh was when he poked fun at my Chicago Cubs and the fact that we haven't won a World Series in over 100 years. This was only because he is from Massachusetts. His team just happened to win the World Series that same night. Well in regard to my Cubbies, he dedicated the song "In Due Time," which made us all laugh/boo at the same time. You have to enjoy the humor every now and then. KSE played such classics as "Rose for Sharyn," "Life to Lifeless," "My Last Serenade," and "My Curse." If you haven't seen KSE live yet, I highly recommend you do so. They play excellent live and truly keep heavy metal alive.
Lamb of God

When I was talking earlier about avoiding the mosh pits, this band was why. The pit erupted from the very first song and didn't let up until the end. This was also the performance in which I witnessed an emo kid get his ass kicked by a fellow Metalhead. Lamb of God erupted with "Desolation" and the crowd went wild. LOG also play a ton of well-known songs, such as "Omerta," "Redneck," "11th Hour," "Now You Got Something to Die For," and the very famous "Laid to Rest."
LOG is another band that likes to get the crowd involved, encouraging them to sing along to "Now You Got Something to Die For," "Omerta," and "Walk With Me in Hell." The crowd was super loud and there was definitely a nice echo at the Aragon Ballroom in downtown Chicago. One key thing that I will remember was when Randy gave a nice speech for our United States Armed Forces. Showing pictures of LOG fans on the video screens and dedicating "Now You Got Something to Die For" to our current and fallen service members. When you have a band that shows appreciation, whether our government is corrupt or not, it means a lot to the fellow Americans. After all, our service members are what keeps our country safe.