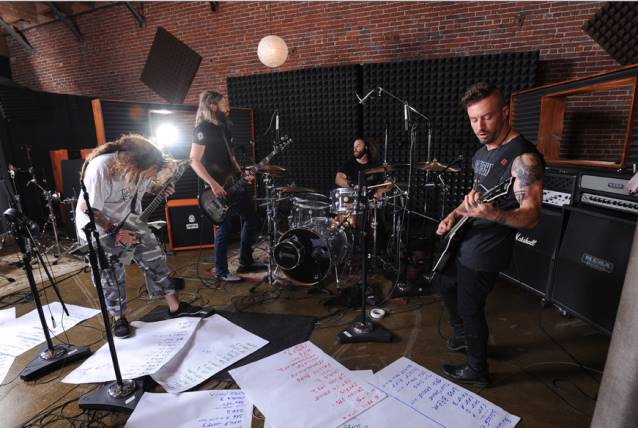 Killer Be Killed has been a hushed little secret for far too long, and some new details are finally emerging about the super group.
First of all, Killer Be Killed features the legendary talents of guitarists Max Cavalera (Sepultura, Soulfly) and Greg Puciato (The Dillinger Escape Plan), bassist Troy Sanders (Mastodon) — all of whom share vocal duties — together with drummer David Elitch (The Mars Volta). The album was produced/mixed by Josh Wilbur (Lamb of God, Gojira, Steve Earle???). Three-fourths of this band are converging at high points in their respective careers: Max just released his ninth studio album with Soulfly, Savages, to many of the strongest reviews of his legendary career; The Dillinger Escape Plan's One Of Us Is The Killer debuted at #1 on Billboard's Hard Rock Album chart earlier this year; and Mastodon's latest album, The Hunter", was Album Of The Year for many notable music publications.
Obviously, the sub-genres of metal that each member comes from are disparate, which leads to the question: "So what's this Killer shit gonna sound like?" Members of the band have let various descriptions trickle out in interviews:
From Puciato:
There would be no point in doing this if it sounded the same as our other bands. Of any of our bands, it sounds the furthest away from mine, mainly because Dillinger is Ben [Weinman]'s expression, musically.
It's a bit of Sabbath-y doom, a bit of thrash, a bit of hardcore and punk.
From Cavalera:
This is a very special project. It's a one-of-a-kind thing, with a lot of potential. The album is a mix of heavy, fast and melodic songs.
From Sanders, jokingly describing the band:
[It's] a perfect blend of a legend, a freak, a beast, and a wookie.
So, basically it's going to be a heavy metal potpourri. (Did I just fucking write potpourri in a heavy metal news article? Where's my crack pipe?)
The debut album from Killer Be Killed is set for release in 2014, via Nuclear Blast.
We'll keep you posted as this story develops.
Rock Hard \m/