No.3 Alice Cooper/King Diamond

Corpse paint is a style of black-and-white makeup that may have gotten its start with Alice Cooper and/or King Diamond. Certainly, with a slight modification, KISS popularized it, even if they cited Kabuki as their inspiration. Corpse paint is used mainly by black metal bands during live concerts and photo shoots. The makeup is used to make the musicians appear inhuman, corpse-like, or demonic.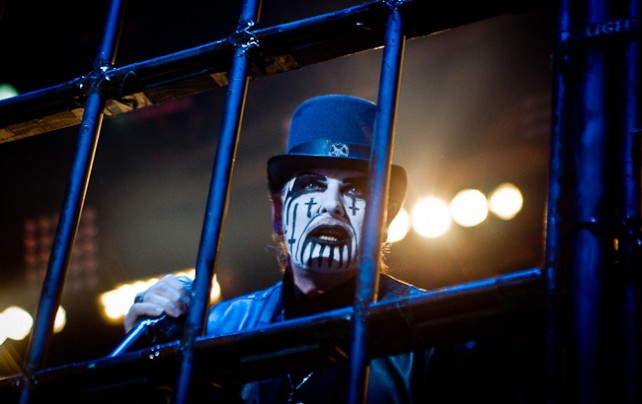 Yes, instead of being one of a hundred other zombies on Halloween, why not wear corpse paint a la Alice Cooper or King Diamond and scare the crap out of people while they're out trying to get some candy?
---
No.2 KISS

What heavy metal Halloween costume list would be complete without KISS? KISS may have turned into a novelty spectacle, a family show, a circus, selling out large arenas with their theatrics and rock and roll anthems, but their image is undeniably legendary. KISS is one of the few bands that you can show a picture of to just about anybody in the civilized world and they'll be able to name the band, even if they've never heard KISS' music. Besides the fact that these guys have awesome costumes, we like the horror element brought to their show via Gene Simmons' Demon persona — spitting blood and breathing fire.
---
No.1 Slipknot

You got nine band members to choose from for your heavy metal Halloween costume. Each member of Slipknot has a unique mask to suit his personality. There has been controversy surrounding the band from the members of Mushroomhead and their fans claiming that Slipknot ripped of their style. I don't see any issue regarding the masks… technically, they are different, right? That's like saying Jason is ripping off of Michael Meyers: "How dare you wear a mask!"