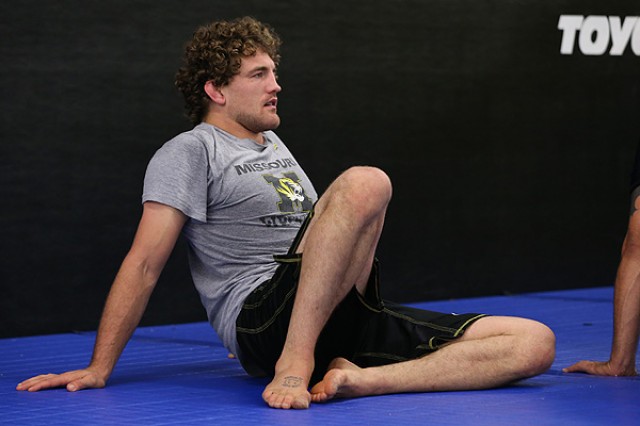 The UFC on Fox 9 presser took place yesterday in Sacramento, California for an upcoming event that headlines a bout between UFC Lightweight Champion Anthony Pettis and Josh Thomson. Although most of the media and fan questions asked were specifically geared toward the fighters on that card, one particular question stood out from the pile that touched on training partners. Since Pettis trains with former Bellator Welterweight Champion Ben Askren (12–0), he talked about his training partner and revealed that Askren is stuck between Bellator and UFC, on the verge of retiring. Something that Pettis clearly doesn't want to see happen to his friend.
One guy that is on the main stage already is Ben Askren. He's stuck between Bellator and UFC, thinking about retiring. One of the best guys I've ever trained with. His level of wrestling and how much better he's got his striking is ridiculous. One guy I don't want to see retire. I don't want to see him get lost between organizations.
Subsequently, what he said spread like a wildfire that sent a signal for Askren to respond and give his side of the story. Since Askren is a man of few words, it didn't take much but a small message on Twitter for us to understand his true intentions in combat sport.
Not retiring yet, still 1 person I want to beat up. @GeorgesStPierre @ufc @danawhite

— Ben Askren (@Benaskren) October 4, 2013
So does that mean Askren wants to retire now? Hell no! The former Olympian in wrestling wants a shot at Georges St-Pierre (24–2), and it sounds like he wants to beat him up good like all of his Bellator opponents.
Unfortuntely, we'll have to wait a while for this fight to even come into consideration since the UFC welterweight division is stacked, and Askren still hasn't signed a contract. St-Pierre will face Johny Hendricks on November 16, 2013 at UFC 167.