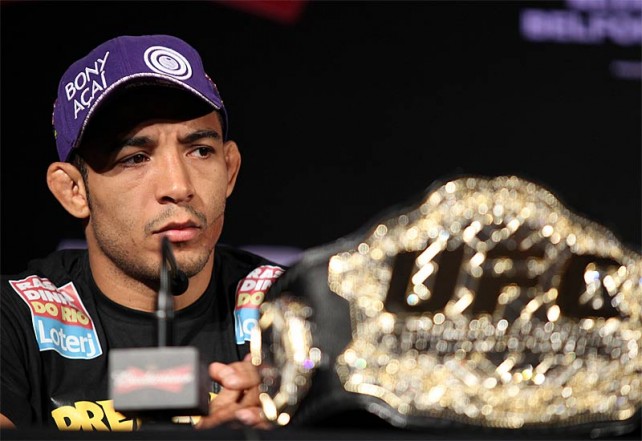 Testosterone replacement therapy (TRT) is always a touchy, and controversial topic in the world of MMA because people believe that this performance enhancing drug changes the natural makeup of a fighter who uses it.
A previous report claims that TRT absolutely impacts the longevity of a fighter in combat sport, and keeps their performance level at the top of their game throughout their career. Since I'm far from an expert on all the details about TRT, and I won't try to explain it for you, but public perception is that most TRT users are cheaters. The two names that stand out the most in MMA is Chael Sonnen, and more recently Vitor Belfort is considered the poster child of TRT. Others in the past like Dan Henderson and Todd Duffee where granted therapeutic use exemptions by the Nevada state athletic commission, and bold steps are currently taken to regulate TRT by CSAC.
UFC Featherweight Champion José Aldo recently touched on the topic, and made it clear that his team Nova União and himself wouldn't ever use TRT. However, Aldo isn't completely against it.
"I don't see the problem with using TRT," Aldo told Tatame. "Everybody uses [steroids], from the champion to the newcomer. I believe we [from Nova Uniao] are the only ones that don't do that, because Andre (Pederneiras) was always against steroids. I think it's wrong to criticize someone who came forward and said they take TRT."
Aldo also believes that American MMA fighters always use TRT, specifically accusing Randy "The Natural" Couture.
"Americans always used that," he said. "Randy Couture fought until he was 50, and you say he was clean? If the doctors prescribe you and you're on the limits, OK, I see no problem. If I need that one day, I will use TRT too."
Couture has been outspoken on the topic before, but it's a first I hear about him not being so "natural". If it's true, does it change your perception on him at all? Drop your thoughts off in the comments section below.