After two full days of metal and work to bring you the best Heavy MTL 2013 coverage, we're here to give you a final report on yesterday's performances.
Fan frenzy
First off though, you know you're something when you go backstage to give interviews and even the media swarms you like groupies to take snapshots of you with their phones. Yes, I'm talking about Phil Anselmo, and no, I'm not insulting anybody who did this. I totally understand why — the man is a metal legend. We gave you a rundown of his amazing performance in another report, but while he was backstage we tried like hell to get an interview with him, unfortunately after waiting for an hour, he still had other scheduled interviews to get to. We did manage to possibly secure a phone interview with him.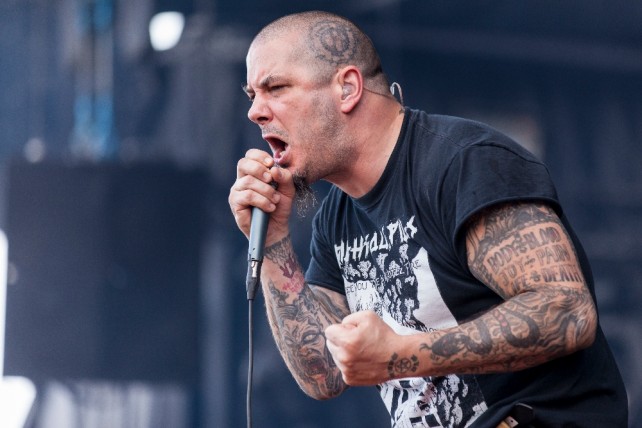 As a result of waiting, we missed a few performances that were being broadcast backstage via closed-circuit TV, so we at least got to see and hear them. Having seen Machine Head a few times, it sounded and looked like they were giving their typical, spot-on performance. I wish Pallbearer had been broadcast since I've never seen them, but we did see Children of Bodom via closed-circuit. Thankfully the cameramen/women at Evenko's Heavy MTL were doing a great job capturing the experience; we got to see the band up close and personal and we got to see the audience react to the performers. We can say, without a doubt, that COB were definitely appreciated by the fans, which is all that really matters at these things.
Moving toward the end of the night, we got to see Havok, Godsmack, and Rob Zombie.
---
Havok at Heavy MTL 2013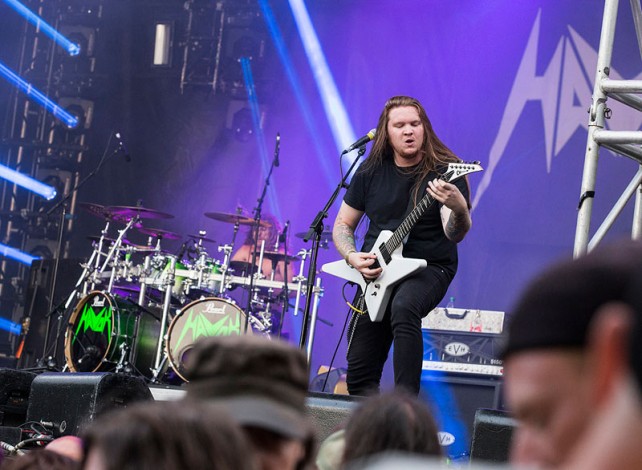 Havok is a relative newcomer to the metal scene, having released their first album, Burn, in 2009. Currently the band is touring their third album, Unnatural Selection, from 2013. Honestly, I've never seen them live, nor have I ever listened to them, which is a damn shame because I love me some good thrash metal. I have to say that despite sounding an awful lot like Overkill, Havok was impressive. Near the end of their set, they broke into "Afterburner," and just as expected, the fans chanted "burn, burn, burn, burn…" as it is on the album. To me, however, it sounded like Metallica's "die, die, die, die…" — but that's not a bad thing. All in all, Havok is a band that I intend on paying more attention to.
---
Godsmack at Heavy MTL 2013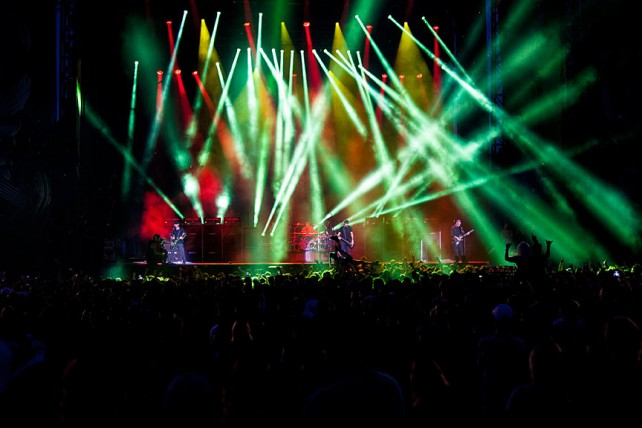 Godsmack was next for us. I truly wasn't looking forward to seeing them, but King Hazard insisted that they at least sound good live. We've seen them before, but I didn't really pay attention. This time I did, and I have to say that Godsmack gives a really good live performance: Shannon Larkin is an entertaining drummer to watch and Sully Erna is an exemplary frontman. The band plays with precision and the sound is perfect: deep and rockin'.
---
Rob Zombie Enthralls Heavy MTL 2013
Then, for the final act of the night — Rob Zombie! The set opened with "Teenage Nosferatu Pussy," which pleased the crowd, but seemed a bit tame as an opener — even if Zombie sang the sex-laden song from an elevated pulpit of sorts. Although the crowd was stoked, they really went nuts when Zombie broke into "Superbeast" from his debut solo album, Hellbilly Deluxe. The rest of the set was filled with standards like "Living Dead Girl," "More Human Than Human," "House of 1,000 Corpses," and even a cover of Metallica's "Enter Sandman."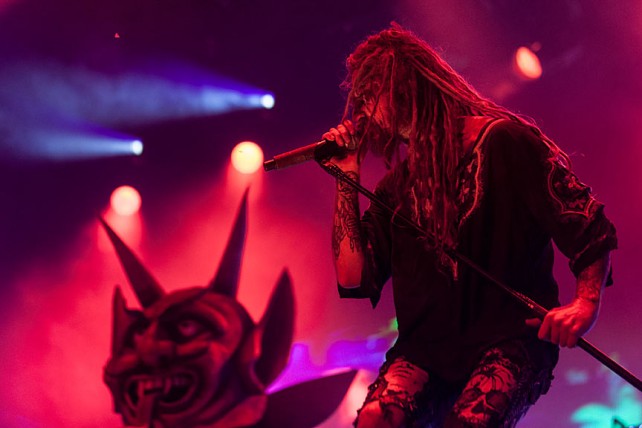 While the music was stellar with no hiccups, the star of the show was the stage show, which was full of video, lights, fire, giant robots, giant devils, mechanical contraptions, and more. A Rob Zombie show is truly something for all your senses. Zombie also surprised the crowd by announcing that he's finally putting together a live DVD, and since he asked the crowd to sing "Oh, Canada," to let the world know who they were, I can only assume some of the footage from last night will be used. However, the Quebec audience couldn't even get through their national anthem before breaking into their annoying as hell "oh, way, oh, way-oh-way-oh-way…" chant. It even disappointed Rob Zombie, who said, "oh, that's ok, we'll fix it in post." So, yeah, Montreal, Quebec, you're gonna be on that DVD singing "Oh, Canada" anyway.
I also have to praise Rob Zombie for asking the girls to get on their boyfriend's shoulders to flash the cameras. He even gave a countdown for it before breaking into the sexy grooves of "Living Dead Girl." Throughout the song the cameras were fixed on the audience, but only a few girls flashed their boobs. How disappointing. That's twice Montreal disappointed their entertainer. When will this new generation realize that showing your boobs is a part of the heavy metal culture? I just hope Zombie broke the ice and that we'll see more of this, which should break the overly grave vibe of the Montreal crowd. Let's have some fun people!
Rock Hard \m/