It's not the first time we see a MMA legend switch over to pro wrestling, and it won't be the last time from my understanding. Things just got a little more weird for Tito Ortiz, who also made an entrance in Bellator on Wednesday night.
Former UFC Light Heavyweight Champion Rampage Jackson recently made a partial conversion in his career, and in the past we've seen Muhammed "King Mo" Lawal, Bobby Lashley, and Ken Shamrock enter the TNA four-sided ring. Now, it isn't a surprise we see Tito Ortiz follow the same foot steps since all of the fighters I mentioned above, except King Mo and Lashley, had beef with UFC President Dana White during their time in the UFC. For these fighters, TNA seems to be a solution to regain some popularity and earn some extra cash on the side, but it doesn't sound like it's impressing the fans of both worlds, MMA and pro wrestling.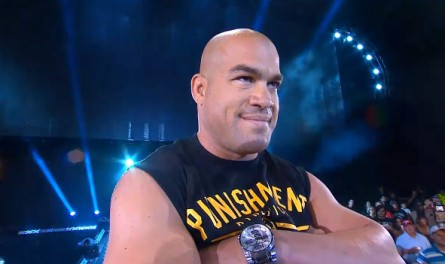 Just take a look at the reaction Tito got in his surprise entrance on TNA Wrestling above, and the fan response he got for Bellator, it's far from spectacular. Even Rampage's stellar acting couldn't save this odd moment from completely failure. But I guess this is a solid way for Viacom to use both franchise to build up hype for Jackson vs. Ortiz in Bellator on November 2, 2013.