Metallica is currently discussing their film Metallica Through the Never at the San Diego Comic-Con. While that is going on, you should be purchasing your advance tickets for the IMAX experience.
And if you're in San Diego, you should be looking for the location of the secret show Metallica will be performing later tonight. Imagine the sight of a cosplay moshpit!
Metallica Through the Never synoposis:
Trip, a young roadie for Metallica, is sent on an urgent mission during the band's show. But what seems like a simple assignment turns into a surreal adventure.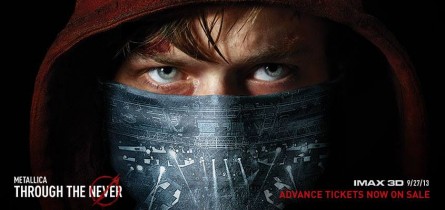 The concept of Metallica Through the Never is a fairly unique one. I don't think anything on this scale has been attempted before. I'm reluctant to mention Detroit Rock City because, while similar, I think Metallica's project has more to do with the concert than the narrative. At any rate, Metallica deserves credit for always finding a way to keep things fresh and interesting. They're really not afraid to take risks, and at this point in their career, they really shouldn't be.
Kirk Hammett is a known horror fan, and he's had a few shaky words to say about Metallica being at the Comic-Con:

While Hammett is the Metallica member who can probably best identify with the Comic-Con crowd, Lars Ulrich claimed a kinship to the "geeks":
"I've never been great with definitions because I think that the whole world should never be limited to that type of specificities. When I was growing up, my experiences and my memories from my childhood were that I was a loner. Now, if you're going to get really into it, loner and geek, what are they cousins? They can't be that far apart from each other."
Somehow, Lars sounds way less sincere than Kirk.
Metallica Through the Never is written and directed by Nimród Antal. The film will be released in IMAX on September 27 and hits theaters everywhere on October 4, 2014.
What do you think of Metallica being at Comic-Con? And about their film?
Rock Hard \m/
httpvh://youtu.be/fO4KEAv-R1U