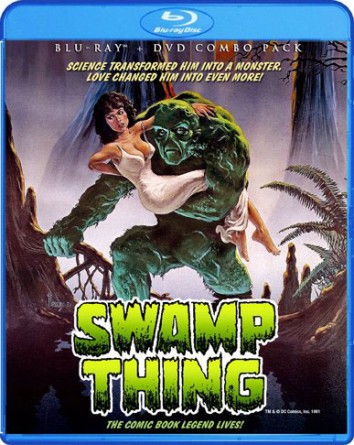 The Swamp Thing is coming after you this summer, and you better be prepared to have your mutant-plant-creature repellent handy at all times. I can guarantee Roundup won't work on this dude, but if you're a coward, you can always sacrifice your hot girlfriend to him in order to save your own ass.
Better yet, you can simply pick up the Blu-ray/DVD combo pack of the Swamp Thing on Tuesday, August 6, 2013, and he'll leave you alone. Thanks to Scream Factory, who announced the official release date earlier this week, along with the extra features listed below.
---
Extra Features:
– New Audio commentary with writer/director Wes Craven

– New Interviews with actress Adrienne Barbeau, Makeup Effects artist Bill Munn, co-creator Len Wein and actor Reggie Batts

– Theatrical Trailer
– Photo Galleries
---
Swamp Thing (1982) Blu-ray
Wes Craven's 1982 Cult Comic Book Classic SWAMP THING (starring horror fan favorite Adrienne Barbeau) will be arriving this summer on Blu-ray for the first time!

As always, we are planning to provide as many bells and whistles as we can on this release, but we felt it was important to tell you early on that we will only be able to present the 91 minute U.S. cut of the film (the same version MGM has released on DVD since '05) and not the 93 minute "unrated" international version as we had originally hoped for. This is due to legal issues that are out of our control and we hope you understand.