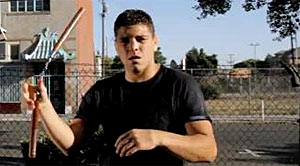 This isn't the first time we've seen Nick Diaz going beast-mode with a pair of nunchucks, and it most likely won't be the last time because, well you know, he likes to blow off steam in his own special way. He especially likes to do so after losing to his biggest MMA rival to date, that is, UFC Welterweight Champion Georges St-Pierre at UFC 158 in Montreal, Canada, last month.
What's great is that Diaz is still himself and has a loyal entourage behind him to capture great moments like this, even if his nunchaku skills aren't as impressive as Bruce Lee's. Nonetheless, it's still worth a watch because he is the "real deal."
As for what's next for Diaz, nothing is decisive at the moment. He either officially goes into retirement, as he said at UFC 158, or he faces a top contender in the welterweight division, like Martin Kampmann, to move up the ranks for another shot at the strap.
httpvh://youtu.be/Ou6e4OWXlho