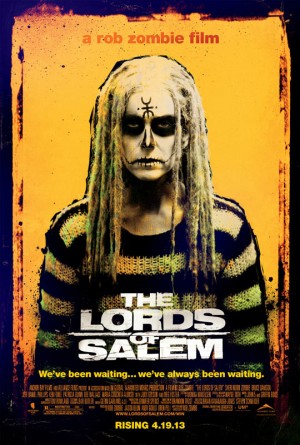 This new clip titled "beast" from Rob Zombie's The Lords of Salem just gives me the chills. Why? Well, first of all, it features a mysterious beast standing behind Heidi (Sheri Moon) while she is mesmerized by a glowing red cross. Second, the heart beat gets to me the most because it reminds me of the bathtub scene from The Shining. Remember the old lady? Whether or not it's a direct inspiration from that film, I definitely like the mix of visuals and sounds presented in this clip, and I'm curious as hell to know what all this means.
Unfortunately, we're still less than a month away from the release of the film to find out, which will play in select theaters starting on April 19, 2013.
---
More about The Lords Of Salem
Heidi, a blond rock chick, DJs at a local radio station, and together with the two Hermans (Whitey and Munster) forms part of the "Big H Radio Team." A mysterious wooden box containing a vinyl record arrives for Heidi, a gift of the Lords. She assumes it's a rock band on a mission to spread to spread their word. As Heidi and Whitey play the Lord's record, it starts to play backwards, and Heidi experiences a flashback to a past trauma.

Later, White plays the Lord's record, dubbing them the Lords of Salem, and to his surprise, the record plays normally and is a massive hit with his listeners. The arrival of another wooden box from the Lords presents the Big H team with free tickets, posters and records to host a gig in Salem. Soon, Heidi and her cohorts are far from the rock spectacle they're expecting. The original Lords or Salem are returning and they're out for blood.
httpvh://youtu.be/stimxup81_E