If you're following The Following, which so far is taking over as the best show on television in The Walking Dead's absence, then you know that episode two, creatively titled "Chapter Two," aired this week.
The episode basically served to give a little back story to a few characters, but it also proved to us that the writers and producers are crafting something that could very well become massive. First of all, the show makes brilliant use of heavy metal. In the pilot episode, Marilyn Manson's "Sweet Dreams" was used, and this week we heard "Angel" by Sepultura (seriously, when was the last time you heard Sepultura on prime-time television?) and "Change (In the House of Flies)" by Deftones.
The soundtrack alone is enough to keep me coming back for more of The Following, but the show has even more to offer.
There's no denying that the Edgar Allan Poe mask is intensely amazing, terrifying even. The Horror genre has needed a new mask for a long time (was Scream's lame ghostface the last?), and this one looks like Ed Gein himself peeled from Poe's dead body. Michael Myers' mask in Halloween is hands down my favorite, but this Poe mask might be a quick Number 2.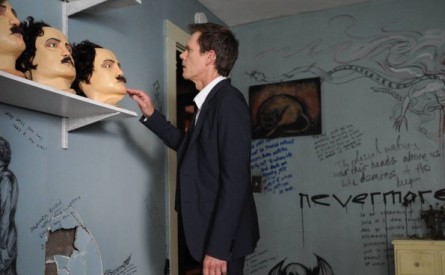 The Following obviously has a Poe theme running through it, and last week I was ready to tell you to brush up on your studies, but it seems that we're going to be told anything of significance as we move along.
The show also has an intricate web of interesting characters that I'm anxious to learn more about and how they're all intertwined. I have a feeling that some of the storylines will be pretty sick and twisted, even more so than Emma Hill's (played by Valorie Curry).
While the closing scene of "Chapter Two" was brilliant (I won't spoil it for you if you haven't seen it), but I sincerely hope that every episode doesn't conclude with our serial killer/cult leader, Joe Carroll (Purefoy), saying something about all the surprises he has for Ryan Hardy (Kevin Bacon) and how long he can keep doing what he's doing.
Let us know what your thoughts on the show are so far in the comments section below.
Rock Hard \m/