From the moment we met the Butcher Babies, even before, it was clear that this wasn't your average heavy metal band. On first appearances, the band looks like, and is, a hodgepodge of influences led by two women (Heidi Shepherd and Carla Harvey) who appear to have nothing to do with metal. First of all, they're glamorous and hardly look like they ever spent a day as a social outcast, as they claim. Second of all, they appear to be happy and bubbly, which contradicts the typical brooding and depressed image of a metal artist. Actually, the whole band (the rest of which includes Henry Flury on guitar, Jason Klein on bass, and Chris Warner on drums) seems happy and well-adjusted.
But that's superficial appearance stuff.
What started out as a self-proclaimed slut metal band, with nipple tape hiding the essentials, has evolved into something that focuses less on appearance than it does on performance and songs. So, gone are the costumes (or have they been added?) and gone are the props and the blood spectacle, which I think should have been kept. And what's left is a hard-working band trying to make its way and stand out as something unique.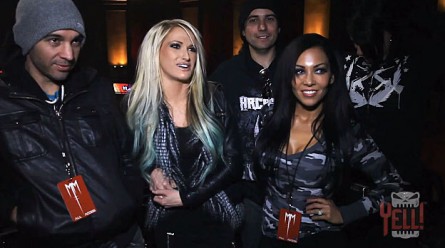 Now, after roughly three short years, the Butcher Babies have evolved, put out an EP, released a comic book, are opening for Marilyn Manson, and are ready to record their first full-length album for Century Media. That's a pretty fast ride. And, honestly, I think the tits helped them get there. However, when I was first approached to interview this band, I had to show everyone who they were. Unfortunately, the sound quality on the YouTube videos of the band performing suck, and even in the "Mr. Slowdeath" video you're distracted visually. All of this led to people asking me if they were any good. What I told these people to do was to close their eyes when they listen. I believe that if you do that, you'll hear something of value.
That's not to say that the Butcher Babies are doing anything original, musically, but it's solid. The musicianship is solid, Heidi's vocals are surprisingly vicious (surprising because she's about 5'2″ and 95 pounds), and Carla's vocals bring a great emotional value to the harmonies.
It seems that everyone in the band is influenced by the macabre (horror, crazy people, graphic comics, etc.) and shock rock (including Marilyn Manson, Alice Cooper, Wendy O., etc.). This gives the band credibility in their chosen subject matter and musical styling.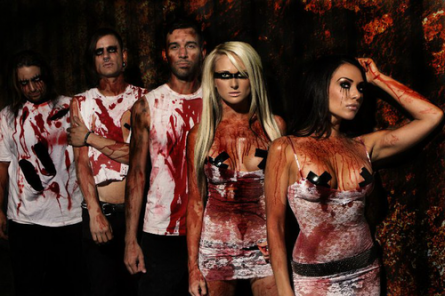 It's hard to say if the Butcher Babies will be around in the next 5 to 10 years, but they're working hard to stay in the game. You should check them out at a show, it's worth the experience, and given the fact that they consciously put more clothes on to bring focus to their music emphasizes the point that they are they real deal.
Rock Hard \m/