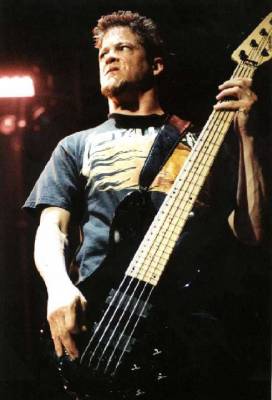 Former Metallica bass-man, Jason Newsted, is back with a four-track solo EP entitled Metal. And you know what? It's more raw, cut-throat metal than anything Metallica has done in years. Also, when you hear Newsted sing lead you realize just how much he carried Hetfield in Newsted's latter years with the band. I recently gave myself permission to like Metallica again, so I don't want to rip into them with a hacksaw, but for the most part the aging thrashers have been pretty lackluster in recent years.
Newsted is joined by drummer Jesus Mendez Jr. and guitarist Jessie Farnsworth, neither of whom are spring chickens as you'll see in the video for "Soldierhead." Newsted also looks like a madman – and that's a good thing. Sure, there's elements in the track that are reminiscent of Metallica, but can that really be helped? If I were Lars or James, I'd be pretty pissed at myself right now.
Buy the Metal EP on iTunes for a mere $3.99. Seriously, what can you buy today for 4 bucks?
---
Newsted – Metal Track Listing
"Soldierhead"
"Godsnake"
"King of the Underdogs"
"Skyscraper"
Rock Hard \m/
httpvh://www.youtube.com/watch?v=4kRWwxCPyjw