Yell! Magazine's review of Texas Chainsaw 3D: I don't know why this keeps happening. It's like some kind of weird Twilight Zone episode that runs along the theme of eternal recurrence. Remake after remake after rehash-remix bonanza, followed by an unplanned sequel, followed by two prequels, and a direct-to-video special.
Here we are again, mein freunds. Let us discuss Texas Chainsaw 3D.
No, no – not "The Texas Chainsaw Massacre" – oh my, no. That'd be much too appealing – the ship has sailed on remakes for that film. Instead we're left with a money-grubbing retcon that's canceled out most of the series.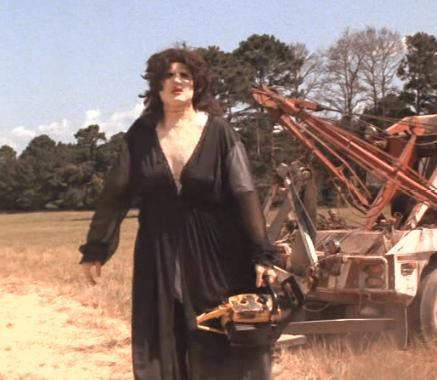 Considering what the series became, though, that may actually be a good thing.
Following the events of The Texas Chainsaw Massacre (and illustrated through old, remastered footage that lends you a craving for honest-to-God effort), we see the Sawyer family hoarding their chainsaw-wielding relative in the kitchen, while the house is swarmed and attacked by angry rednecks. In the midst of an arson fest and bloody shoot-out, each member of the entire family meets their demise, and a small baby is discovered to be the only survivor.
Now, 40 years later (or, maybe 20, given the age of the character – whatever) young Heather Miller (Alexandra Daddario) receives notification that her grandmother, whom she never knew, has died and left her with the inheritance of a grand mansion, somewhere in Texas. Tracing her roots, and seeking to know where she fits in, our heroine takes a road trip with a group of friends and stays the night in her not-so-humble abode.
People begin disappearing, the Chainsaw-Mythos is fleshed out, and when it's all over and done you've managed to shrug with such frequency you've thrown your back out, and are finally whisked off in an ambulance.
"How could that guy do something so stupid?"

"Why aren't people running away from a chainsaw-wielding man-giant?"

"Why did that person make a 180-degree character turn in such a short time?"

"Why does a 90-minute movie feel so long?"
Some good questions have no good answers.
The original Texas Chainsaw Massacre holds a timeless quality to it, for being disturbing, visceral, and full of grunge. The antagonist was mysterious, dangerous and had a look and feel that was incredibly unique, while still managing to be offbeat. He had a style all his own, and you'll remember Leatherface for being the wild and wacky sumbitch that he is.
Now, he's a marketing gimmick. Slap Leatherface in the center of your promotional poster and you've got yourself a new Lexus and a metric boatload of prostitutes.
Continue reading the Texas Chainsaw 3D review after the jump…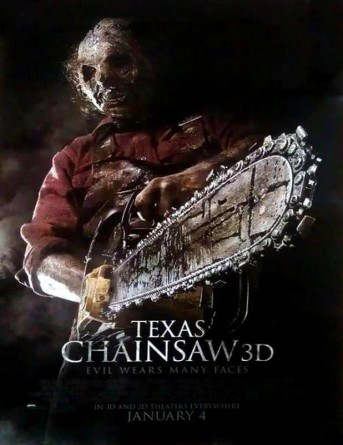 Yell! Rating (x/5 Skulls):

[rating:2.5]

Year Released:

4 January 2013

Director:

John Luessenhop

Cast/Crew

Alexandra Daddario, Tania Raymonde, Dan Yeager, Trey Songz, Bill Moseley, Gunnar Hansen, and Scott Eastwood

Genre

Horror, Thriller

Official URL: