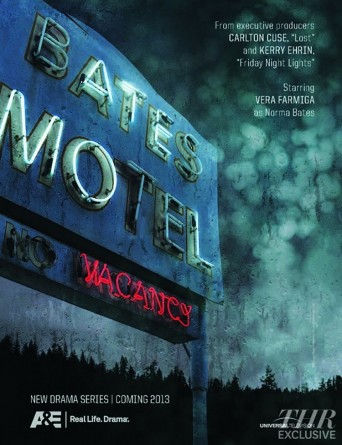 A&E Network President and GM Bob DeBitetto recently announced that they will premiere Bates Motel on Monday, March 18 at 10 p.m. ET/PT. You may already be aware that this is an original scripted TV series coming from the executive producers of LOST and Friday Night Lights, which is a contemporary prequel to Alfred Hitchcock's Psycho.
Season 1 of Bates Motel will kick off in March with 10 episodes confirmed, skipping the pilot process, that promises to give viewers the twisted backstory of Norman Bates (Freddie Highmore) and how deeply intricate his relationship with his mother is.
"Carlton and Kerry crafted a fascinating backstory for Norman and Norma Bates that has been brought to life by this incredible cast," said DeBitetto. "It's thought-provoking television at its finest and we're thrilled to bring it to the A&E family."
In Bates Motel, following the tragic death of her husband, Norma Bates buys a motel on the outskirts of the idyllic coastal town of White Pine Bay, seeking a fresh start. As Norma and Norman get ensconced in their new home, they discover this town isn't quite what it seems, and the locals aren't so quick to let them in on their secrets. But the Bates' are done being pushed around and will do whatever it takes to survive – and will do whatever it takes to protect their own secrets.
Bates Motel stars Academy Award nominee Vera Farmiga (The Departed), Freddie Highmore, Max Thieriot, Olivia Cooke, and Nicola Peltz (The Last Airbender). Season 1 also co-stars Nestor Carbonell (The Dark Knight Rises), and Mike Vogel.