Eli Roth is one crazy filmmaker if you consider his latest endeavor. What he's about to do sounds very similar to the story behind the making of Ruggero Deodato's epic cannibal film, Cannibal Holocaust, which nearly got Ruggero put away in jail for life back in the '80s because authorities believed the graphic human violence depicted in the film was real.
After five years away from filmmaking, with Hostel: Part II being his last effort, Roth and a small crew are getting ready to shoot a cannibal pic similar to Holocaust, titled The Green Inferno, in a remote village up the Amazon River that has "no electricity, no running water, nothing." What makes his adventure slightly more interesting is that the producers have recruited some of the natives from the village to play as extras in the horror film. The cult film Cannibal Holocaust was apparently used as a recruitment tool. Since the village is so remote and the natives have no access to television, hence they have never seen a film, Roth insisted on showing them Cannibal Holocaust. They used a generator to power a TV, and when the film ended, Roth remarked, "They thought it was the funniest thing they'd ever seen."
Aside from this extraordinary recruitment technique, Roth will also be the first person to venture near the area since Werner Herzog's film Aguirre: The Wrath of God, which got released in West Germany in 1972.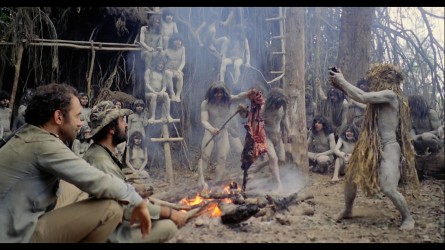 In a recent casting update, Roth is heading in to the Amazon early next month to begin filming The Green Inferno in the remote village, and according to Variety, the following actors are in negotiation to appear in his Ruggero Deodato-inspired cannibal film: Lorenza Izzo (Aftershock), Daryl Sabara (Spy Kids), Kirby Bliss Blanton (Project X), Ariel Levy (Aftershock), Sky Ferreria, Magda Apanowicz (Caprica), and Aaron Burns.
Make sure you check back with Yell! Magazine for more updates on The Green Inferno and other projects Eli Roth is involved with.