It's been a long time since I made my own hooch, or moonshine, but next time I do I want to make sure that I have this kick-ass
flask
to put it in. Scrap that; next time I go out I want to put my favorite elixir in this flask. Then again, it's so pretty that it might just sit in the liquor cabinet as a novelty piece.
The label reads:
"Have a sip of Hooch!
Warning: may cause sudden feelings of well being, love, & even invincibility. Drinking "Hooch!" has been shown to impair judgement in laboratory animals and drunken fools. May cause other people to appear more attractive than they actually are. May cause an inflated sense of the importance of your own views & opinions. Drinking "Hooch!" may lead to short term relationship problems, and even provoke an ass-whooping or two. Drinking "Hooch!" does NOT give you any special powers. Persons drinking "Hooch!" CANNOT fly or read peoples minds. Gambling while drinking "Hooch!" is not recommended. Does not cure baldness, remove love handles, cellulite, or correct bad wardrobe decisions. The makers of "Hooch!" are not responsible for any dumb-ass decisions, or actions you might take after drinking this product. Always drink responsibly."
Check out the product description from the artists who created the Hooch! flask, Trixie & Milo.
---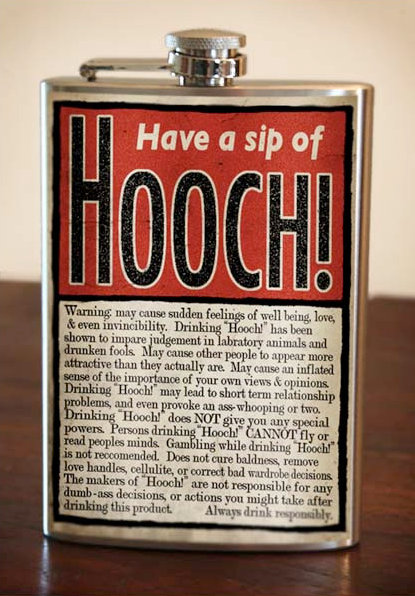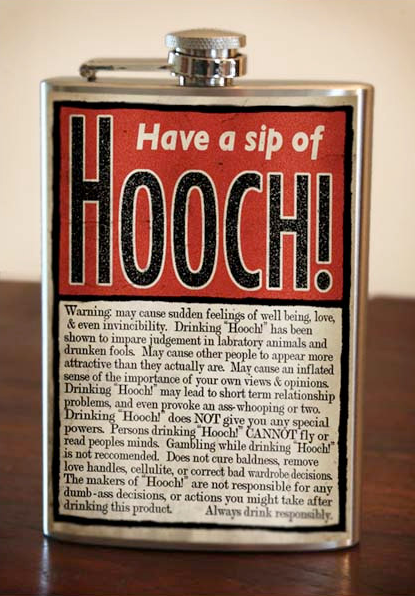 Original art on a stainless steel hip flask. No copies, no bland or generic images; all original designs, drawn and created in our studio. How cool is that?
Created by the artists, Trixie & Milo. These flasks are slim enough to fit in your hip pocket or purse, and stylish enough to show to all your friends! Makes an awesome gift for weddings, bridesmaids, groomsmen, or just birthdays, anniversaries, or the holidays. A perfect fashion accessory!
Quality is our highest priority. No other flask maker uses the high-quality enameling process that we do. These images are NOT stickers. Unlike some other flasks, ours are NOT made with scrapbook paper and modge-podge, or using vinyl decals!
Check out the Hooch! flask features:
High quality stainless steel construction.
Attached screw down cap.
Measurements: 3.75″ x 5.75″
Holds 8 oz. of fluid (yummie!)
Image is protected by several layers of high-gloss varnish. This means it will last a long time!
Ships in a handy gift box, perfect for wrapping and ready to gift.
To clean, just wipe it down with a damp cloth & dry. Not dishwasher safe.
$26 at etsy.com
Rock Hard \m/