No.8 Full Metal Jackie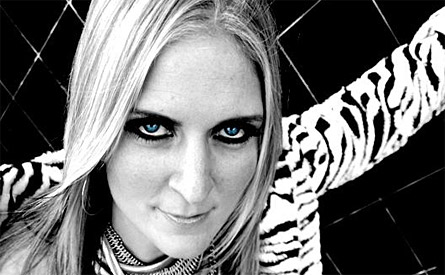 Full Metal Jackie (Jackie Kajzer) is so much more than a radio host – because she's not as vapid as a Seacrest. She brings us all the brutal metal news we can handle and she interviews our favorite bands, both legendary and up-and-coming – because she can and you can't.
The sexy blond with smokey eyes is so good at her job that her show is nationally accredited and syndicated. She's also a coveted hostess for such events as the Revolver Golden Gods (which she hosted in 2009) and such shows as Headbangers Ball. The former college radio DJ has also penned a book, Full Metal Jackie Certified, which chronicles the stories behind the 50 most influential metal songs and their lyrics.
But just talking about music doesn't necessarily make you a part of music (although I like to think it does!), which is why it's important to mention that she also discovered, signed, and promoted Five Finger Death Punch.
---
No.7 Candace Kucsulain
Walls of Jericho
Most metal fans either love or hate Detroit's Walls of Jericho, the Candace Kucsulain-fronted band. Despite being mislabeled as a metalcore band (they've evolved away from that), there's not much to hate about WOJ. They're heavy, melodic, and hooky, and have socially aware lyrics.
At 17, prior to Walls of Jericho, Candace Kucsulain was in Apathemy, discovering the brutality of her demon-given voice. Influenced by hardcore, metal, and punk rock, she credits the struggles in her youth as a catalyst for getting into the metal scene and the "bullshit in the world" as the source of her rage.
WOJ broke up for a short time between 2001 and 2003, and when they reemerged, they seemed more aggressive than ever. During the break, which was due to their original drummer (Wes Keely) leaving, Candace became a piercing apprentice. But that was short lived, and we're thankful WOJ is back to kick the shit out of our eardrums.
---
No.6 Simone Simons
Epica
As of March 9, 2012, Epica has released their 6th studio album, Requiem for the Indifferent. Founded by Mark Jansen, the Netherlands-based symphonic metal band Epica is fronted by the fiery-haired Simone Simons with her operatic coloratura mezzo-soprano vocals.
The diversity of Epica's music extends beyond Simons' four-octaves and Jansen's death growls, as their ethereal output can be brutally aggressive, melancholic, symphonic, rapid-fire metal, dark, uplifting, gothic; it can be a ton of shit, but one thing remains constant – Simone Simons' transcending voice (excluding Epica's instrumental album, The Score).
In addition to her duties with Epica, Simone Simons has also lent her vocals to a number of Kamelot's tracks. And unlike most vocalists of her caliber, she also writes music and lyrics, and plays instruments (piano and flute).
We're almost there… who do you want to be Number 1?