It's getting down to the 11th hour and you still haven't finished your Christmas Shopping! What's wrong with you, man? Tis the season to give and love thy fellow man. Get out there and git it dun!
We here at Yell! Magazine take pride in our unique view on the world, and we hope that our unique vision will help you stand out from the rest when you give your gift this year.
Granted, some of our suggestions border on the ridiculously expensive side (fine, some of them are just plain expensive), but that doesn't change the fact that they're totally awesome. Other gifts are more practical and you should be able to run out and pick them up today. Naturally, what we're suggesting is in tune with our content. So, if you have a metal head, horror film buff, MMA fan, or gamer on your list of who's been nice (though we prefer naughty), then you've come to the right place for some ideas.
---
Jamie Lee's Christmas Gift Idea
Army of Darkness Necronomicon Puppet Prop Replica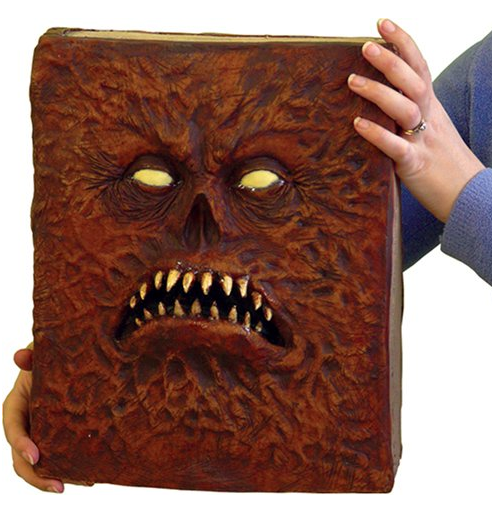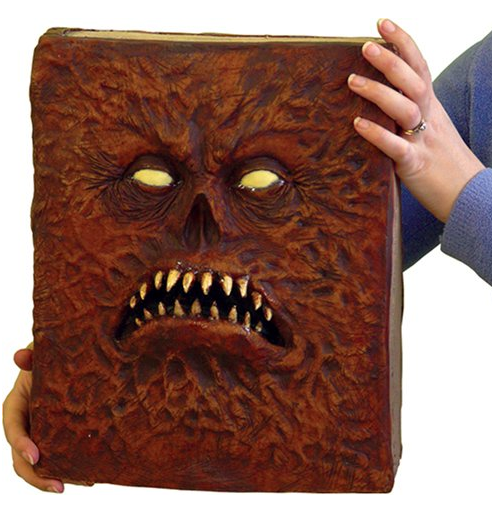 For those of you with a little extra moolah to throw around for yourself or a very special loved one, this is my pick for a great and memorable Christmas gift that's to-die- (and come-back) for. This latex Necromonicon hand puppet is the perfect gift for someone who's big on nostalgia and memorabilia — the only downside to it is that it costs 300 of your American dollars. That being said, this is a badass gift for your resident Evil Dead fan, like moi for instance. Is this a practical or useful gift? No, but it looks cool and shit, and image is what really matters, right? Plus since it says "hand puppet," I'm assuming that you'll be able to scare away the Jehovah's Witnesses with it… Maybe it is more practical and useful than I thought. In any case, if you can't afford this extravagant gift, you can still chuckle at the single 1-star review on the Amazon website for this product. It'll swallow your soul!
---
King Hazard's Christmas Gift Idea
Round 5: Ultimate Collector Series 9 Set (Regular Edition)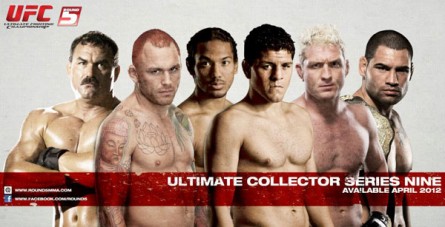 If Jamie Lee went latex on her Christmas gift idea this year, then I'm going plastic with the Round 5 official UFC collectables. They are tiny, hard, and probably last as long as a purple dildo bat in Saints Row: The Third. But when you own a complete set of the "Ultimate Collector" Series, you simply gain the respect you down right deserve from everyone around you.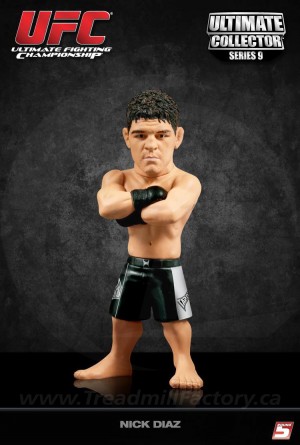 For the first time ever in Round 5 history, the "Ultimate Collector" Series 9 will including the following popular UFC fighters: Benson "Smooth" Henderson, Chris "The Crippler" Leben, Jason "Mayhem" Miller, Cain Velasquez (Championship Edition), Nick Diaz Pride, and Don "The Predator" Frye Pride. I can only describe this set in one word… awesome! All the fighters are unique, and have their own flair, especially Nick Diaz who is currently considered the most entertaining fighter in MMA — he alone makes this set worth owning. Can you really go wrong?
The only setback you get, is that the Series 9 set ships in April 2012, but you can pre-order online now via The TrendMill Factory at $79.99 (save $45) for the regular edition. The upside is that you now have an excuse to give if you are a last-minute Christmas shopper just like me.
---
NoFaceNorm and Evil Argento give their Christmas Gift Ideas after the jump…