CALIFORNIA – Rob Cavestany, guitarist of the veteran West Coast thrash metal act, Death Angel, has issued the following statement in anticipation of the band's upcoming U.S. run with Anthrax and Testament:
"We are beyond ecstatic that Death Angel has been invited to join our friends Anthrax and Testament once again for the second leg of this tour! More shows, more fun, more THRASH! The first leg was amazing and we expect no less on this next run. This line up is the best we've ever been part of as far as touring the States goes. Every band brings their 'A' game each night, no doubt! Plus, we usually do our own headline shows on days off from the main tour, so very much looking forward to performing our long set to our fans across the country as well. What a fantastic way to kick off 2012! We have an extremely busy year planned and it's certain to begin with a BLAST! See you on the road, at the bar and in the pit!"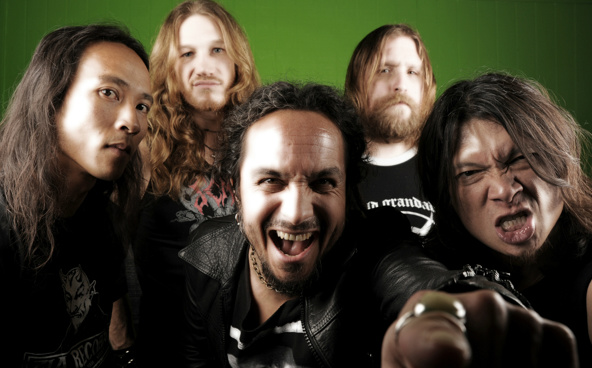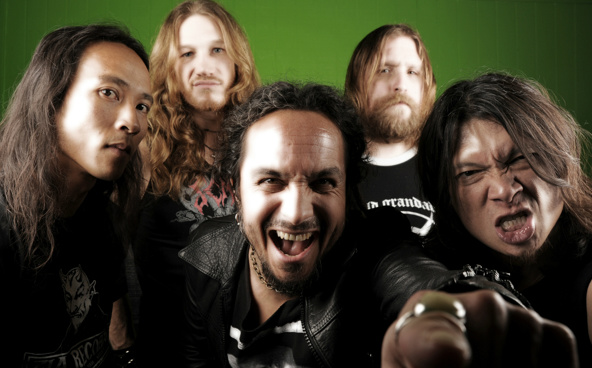 After wrapping up an October/November run with the same line-up, the all-star thrash trio of Testament, Anthrax and Death Angel hit the road again for another round of dates beginning in January.
Death Angel on tour with Anthrax and Testament:
Jan. 22 – Las Vegas, NV @ House Of Blues
Jan. 23 – Anaheim, CA @ House Of Blues
Jan. 24 – Marquee Theatre – Tempe, AZ
Jan. 27 – Egyptian Room – Indianapolis, IN
Jan. 28 – Piere's – Ft. Wayne, IN
Jan. 29 – Expo Five – Louisville, KY
Jan. 30 – Orange Peel – Ashville, NC
Feb. 02 – Tabernacle – Atlanta, GA
Feb. 03 – The LC Pavillion – Columbus, OH
Feb. 06 – Crockodile Rock – Allentown, PA
Feb. 07 – Ram's Head Live – Baltimore, MD
Feb. 08 – Best Buy Theatre – New York, NY
Death Angel is:
Mark Osegueda – vocals
Rob Cavestany – guitar
Ted Aguilar – guitar
Will Carroll – drums
Damien Sisson – bass
Rock Hard!
httpvh://www.youtube.com/watch?v=l8u3Yoz1-zQ