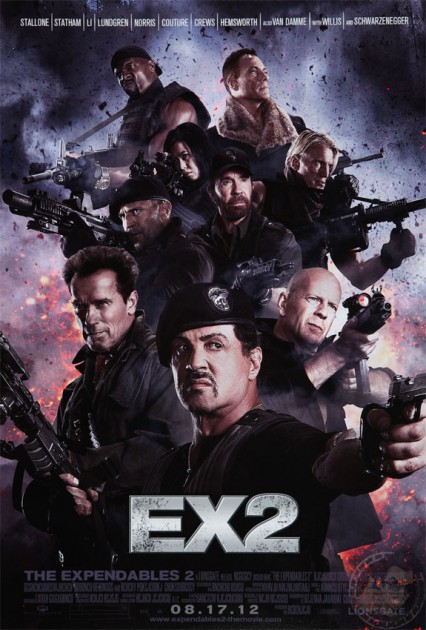 That's the caption that should have been used in this new poster for The Expendables 2, also known as EX2, which was first spotted over at JoBlo.
When Bruce Willis and Arnold Schwarzenegger cameoed in The Expendables as Mr. Church and Trent Mauser, respectively, we all figured it was too good to be true to see all our favorite action movie stars in one film. While most of them are tipping the scales at age 50, The Expendables proved to everyone that they still have what it takes to pull off an action-packed and entertaining movie for the new-gens that don't know jack shit about these old-timers. While we see returning characters from the first movie, The Expendables 2 also introduces us to new ones like Jean-Claude Van Damme as Jean Vilain, Chuck Norris as Booker, and the first female mercenary, Nan Yu, as Maggie to join the dog pile.
Since Jean-Claude was turned down to do the remake for Bloodsport because of his age, EX2 could very well be his first great comeback since JCVD (2008), and could also be a big F**K YOU to the writers of the Bloodsport reincarnation.

The truth about the Bloodsport remake.
Lastly, The Expendables 2 will hit theaters on August 17, 2012.