Has thrash ever really gone extinct? Sure, it's never regained the popularity that it had in its '80s heyday and it hasn't been a label's cash cow in as long, but to say that it truly went away would be foolish. How many bands gaining popularity in metal claim to have been influenced by the Big 4? Pretty much all of them.
By the way, when did we start calling them the "Big 4"? I seem to recall, in a not-too-distant past, referring to them as "The Four Horsemen."
However, the fact that thrash has always been there just under the surface doesn't mean that anyone has picked up the torch. And even if someone did, would we end up with some forgettable knock-off like Airborne?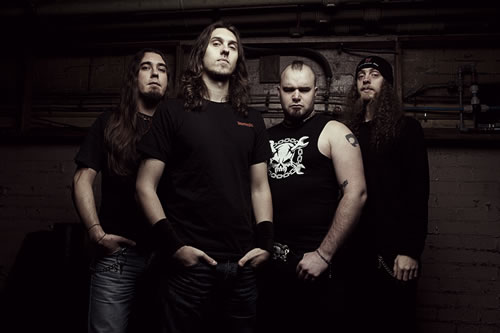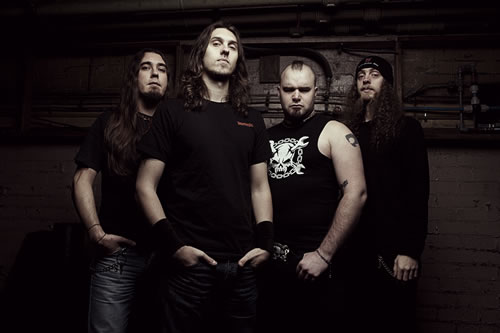 If some band did try to carry the torch, how good would it be considering the thrash masters are having a difficult time recapturing their own former glory? That could actually be the old guards' problem: They're trying to be something they were when they should be trying to be something they never were. (This isn't to say that I don't like the new stuff put out by "The Ginger.")
Enough of the prologue. The thrash torch has been picked up and it's shining bright. Evile, with their third effort, Five Serpent's Teeth, have taken thrash metal by the balls.
Evile: Five Serpent's Teeth – Album Preview
If you know metal, then you should know the godfathers of thrash [I only mention this because I once ran into a "Maggot" (he truly deserves this moniker) sporting a Slipknot T-shirt, yet he didn't know who Slayer was. Seriously? Fucking idiot.], and it will come as no surprise that Evile draw heavily, very heavily, from those who influenced them.
What we have here with Five Serpent's Teeth is a very aggressive, well-structured, crisp, hungry, fresh, and sonic album. Basically, it's fucking intense – even the melancholic "In Memoriam" (love that track and I can't wait for you guys to hear it).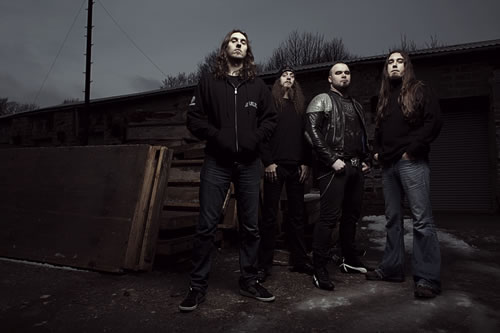 Evile's sound is strange. Somehow they've managed to sound unique while, deliberately or not, paying homage to Slayer, Metallica, Anthrax, and Megadeth. Vocalist, Matt Drake, manages to sound mostly like Tom Araya with some James Hetfield mixed in and some Joey Belladonna-style vocal melodies from time to time. It's weird. Rhythm guitars (again, Matt Drake) echo Megadeth, while the lead (Ol Drake) fluctuates between Kirk Hammet and Kerry King, but many of the solos sound like Kirk with a King doom. Wicked, right? Ben Carter, on drums, sounds as though he was influenced by Lars, but I have feeling he's surpassed his mentor.
Evile – "Eternal Empire"
With this strange brew of sounds, you'd be right to expect Evile to sound like them and at times there are riffs and melodies that are undeniably derivative. However, that shouldn't deter you for appreciating this band for what it is; something that has a fighting chance at bringing thrash back to the fore.
---
Verdict: [rating:3]
You gotta check this out for yourself. You're either going to love it or hate it, but I suggest you at least give it a listen when it becomes available on September 26th (Europe)/October 18th (U.S.).
Track Listing
"Five Serpent's Teeth"
"In Dreams of Terror"
"Cult"
"Eternal Empire"
"Xaraya"
"Origin of Oblivion"
"Centurion"
"In Memoriam"
"Descent Into Madness"
"Long Live New Flesh"
Rock Hard!
Yell! Rating (x/5 Skulls):

[rating:3.0]

Artist

Evile

Album:

Five Serpent's Teeth

Year Released:

26 September 2011 (Europe); 18 October 2011 (U.S.)

Label:

Earache Records

Genre

Thrash Metal, Speed Metal, Heavy Metal

Official URL: