If you wore a crust of mud and sun-dried blood, that was your warpaint; if you suffered heatstroke, broken bones, or twitched unwillingly on a backboard at the first aid tent (aka, battlefield triage), then you are metal's infantry – our front-line soldiers. Heed your war cry.
If you were there passing the metal torch to your kids like Anthrax or In Flames was a Papal Blessing, thank you. Unless you were there with an infant and neglected to put hearing protection on the poor shit, then fuck you.
If you were Billy Talent – Fuck off. I think there were more people waiting to see Godsmack at the adjacent stage than in front of yours – that's not saying much.
Truth is, metalheads are still intimidating, even more so than they were back in the '80s when Tipper Gore went on a rampage to censor music in general and there was a paranoia that all metal was Satanic. Where they were once pimply-faced, skin-tight jean-wearing, long-haired, jean-jacket-with-the-sleeves-cut-off-and-patches-up-the-ass wearing types, who hung out in parking lots drinking beers, snarled at old ladies, and may have played D&D, today they are tattooed to kingdom come, pierced in any orifice imaginable (and making them where there once were none), and a lot less jovial. Of course today's metallers still scowl, but they scowl at everyone, not just old ladies. My point, however, is that despite their "evilness," they are among the nicest people. But maybe that's because once inside the gates, you're home, and everyone there is family. Society's fringe subculture in one community where we point at one another's shirts and say, "Fuck yeah that's a nice shirt," then we display our devil horns.
OK, so Day 1 at Heavy MTL was a scorcher – hot, humid, and sunny. But the music was divine – or evil, or wicked, or sick, or whatever expression of approval you want to use. Here are some of the highlights and low lights of Day 1 at Heavy MTL.
---
Surprise Performance of the day
Unearth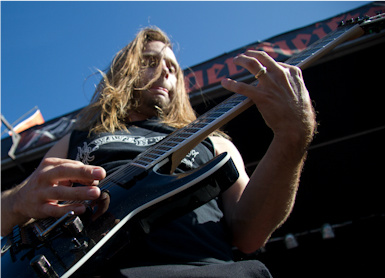 Between the two main stages, Mega and Jägermeister, the first band that truly caught our ear was Unearth. Sure we were in and out of the media area (we had interviews to do), but when we weren't there we were sitting on the hill at the back, and when Unearth came on we were compelled to stand and walk toward the stage as if possessed. Unearth delivered some serious crunch, groove, bone-rattling bass blasts, chugging rhythms, growling vocals, arpeggios, and more. And seriously, Buz McGrath seems to invoke Angus Young or even old-school VH when he's on stage, running around, jumping off of stacks and even riding a skateboard – I don't think any other band member during the two days had more fun on stage.
---
Best Performance of the day
Trivium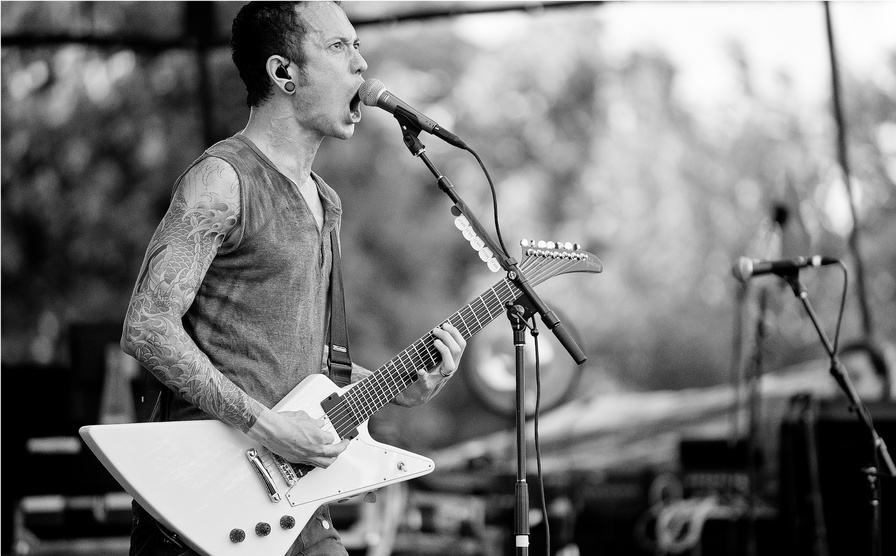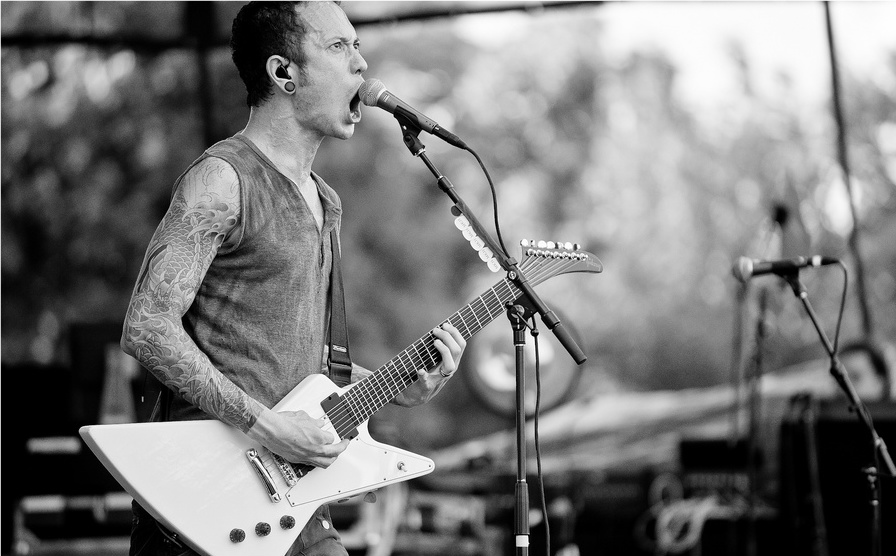 There was so much good shit going on that it's a daunting task to try to narrow this down to just one. From Death Angel to Machine Head to In Flames to… well, you get the point. If you were there, pick your own favorite. For our tastes, however, we're going with Trivium. If you're a fan, you know they're diverse range certainly appeals to a huge crowd; their heavy shit can get a circle pit going with the best of them, their melodic shit makes for great listening, their groove shit makes for some great chanting. Trivium is just one of those bands that is enjoyable for all without sounding like they're trying. A couple of here at Yell! Magazine feel that Trivium could be the band to carry the metal shield into the future for many years to come.
---
Best Sounding Performance of the day
Godsmack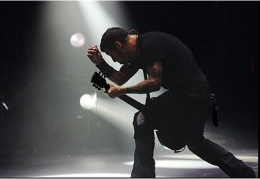 Godsmack. Yeah, I know. What the fuck? Certainly their weird drum solo and numerous covers should disqualify them, but, technically, they sounded great. Sure, we all like it when a band takes some liberties with their songs when they perform them live, but there's nothing worse than a band that can't play live, can't sing live, and just sound like shit through and through live. This is not the case with Godsmack. They sound just as good on their studio releases.
---
Quebec Band of the day
Cryptopsy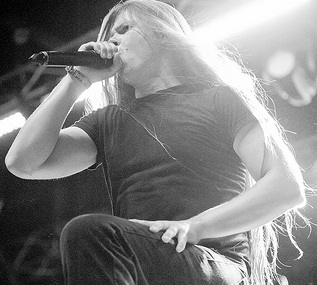 Because we have to give some love to our host city, we're going to name the best Montreal-based band we saw at Heavy MTL Day 1. That distinction goes to Cryptopsy, possibly the heaviest band of the day – or at least Matt McGachy's vocals were. I met Matt behind the scenes (I'd met him on another occasion as well), and it's hard to believe that such vicious growls can come out of him for two reasons: 1) He's a super nice guy, which makes you wonder where all that anger comes from, and 2) his voice is pretty soft. Anyway, everything Cryptopsy did on stage was fierce and heavy.
By the way, we did skip Disturbed to see Cryptopsy.
---
Best Stage Presence of the day
In Flames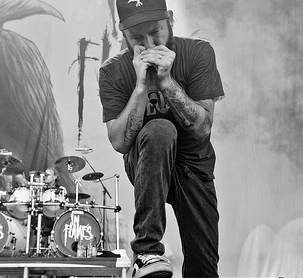 A good indication that a band is comfortable on stage is their frontman's ability (usually, unless you're in Anthrax, then it might be Scott Ian) to engage the audience and deliver some kick-ass banter or some seriously funny shit. And this should be unrehearsed, in the moment, taking in the scene and the vibe, not pre-established dialog such as KISS delivers (don't get me wrong, KISS is my all-time favorite, but if you've seen one show, you've seen them all for the most part – and that consistency and adherence to excellence is one reason why I keep coming back).
Of course there are other things that contribute to stage presence, such as the performance itself and band interaction (because seeing a band with no love between them is a difficult thing to see). Check out some of In Flames' Anders Friden's funny shit below:
"We can't play that fast, we're gettin' old and shit. You gotta slow it down." His response to the audience's quick clap rhythm between songs.
"Hey, dude, is there anyway I can get a beer, man? You, there in the white cap, can you send me a beer, please? I have to order a beer like you guys. No, I can't come there I have a show, sorry. I have to be here. But you guys can come here. You see these blue guys here, security; they are not here to have a vacation, they are here to save your asses – so make them earn their paycheck; I want to see bodies flowing over the barricade; I want to see people all the way from the back flowing over here."
---
Embarrassment of the day
Billy Talent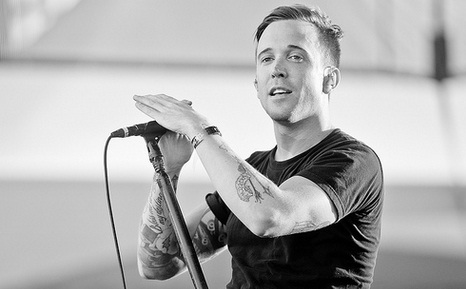 Billy Talent – that should be enough said. But it's not. When Benjamin Kowalewicz said between songs "I know we're not a heavy metal band, but there's no place we'd rather be" you know you're in for some shitty ass music. Next time you're invited to such an event, have some dignity and graciously bow out.