From the retro opening credits of Hobo with a Shotgun you know that you're in for a terrific ride – or, at least, you're hoping it will be. The fact that the "good" of this film is sustained from beginning to end makes it an absofuckinglutely brilliant piece of exploitation cinema.
Hobo with a Shotgun – Grindhouse Trailer
Directed by Jason Eisener, the film found its legs as a fake trailer in the Quentin Tarantino/Robert Rodriguez double-feature film Grindhouse, eventually getting enough financial backing to become a full-length feature. We're glad it did, but if you're not a fan of the genre, you might not get it or even fully appreciate the humor that is found in the over-the-top and gratuitous violence; it takes a unique sense of humor to be able to laugh at school children getting torched or a pedophile dressed as Santa Clause.
Not only does Hobo with a Shotgun do a superb job of captivating an audience with a renewed interest in the genre, but it's also serving as somewhat of a reboot for Rutger Hauer's career; he has several movies lined up, including a part in Dario Argento's Dracula 3D, and he's rumored to be a part of Sound of Mind and Veteran's Day. And Hauer deserves credit for delivering abstract monologues and sometimes nonsensical lines with such believable conviction in Hobo.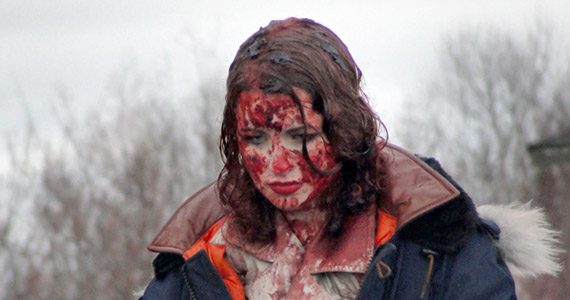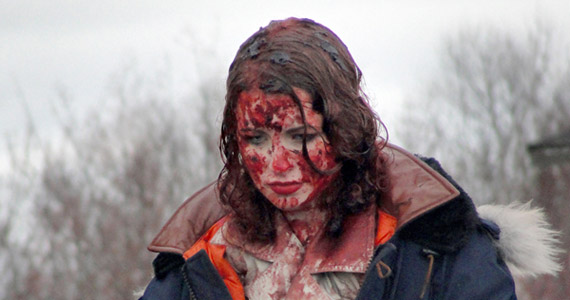 Hobo with a Shotgun follows the Hobo into "Fuck Town" where crime lord Drake (Brian Downey) runs the show and owns the police. Drake and his two sons, Slick (Gregory Smith) and Ivan (Nick Bateman), rule the city with intimidation and a love for fear-inducing violence. What the Hobo finds in this random town he has chosen to try to make a new start repulses him and when Abby (Molly Dunsworth), the hooker he's befriended, is attacked and threatened the fire within him is lit. It still, however, takes another catalyst for him to start wielding the shotgun, but when he does, you better be on the right side of the law as the Hobo's moral compass is straight and true. What ensues is a complete and total bloodfest with unforgettable one-liners, such as "he made me cum," "I'm young, I have a lot of fuckin' to do," "I'm gunna sleep in your bloody carcasses ta-night," and "I can smell your asshole from here."
Hobo with a Shotgun – Trailer
One of the few aspects of the film that doesn't sit well is the way the extras were directed; after a collective gathering they disperse as if they are a meandering group of zombies. But this is easy to get over and doesn't detract from the pure fun that is Hobo with a Shotgun.
If you like exaggerated violence with twisted humor and enjoy sitting with a vocal crowd of like-minded fans, then see this movie before it's out of the theaters.
Rock Hard!
Yell! Rating (x/5 Skulls):

[rating:4]

Year Released:

25 March 2011 (Canada – limited)

Director:

Jason Eisener

Cast/Crew

Rutger Hauer, Molly Dunsworth, Brian Downey, Gregory Smith, Nick Bateman

Genre

Exploitation, Crime, Thriller, Action

Official URL: