Write for Yell! Magazine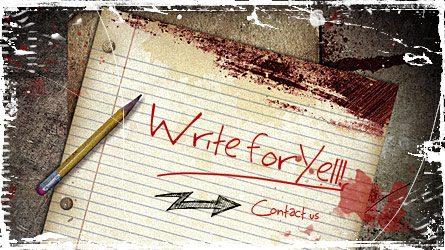 We are aiming to conquer the world, but we need you as an ally…
---
In other words, we need your writing skills–if you have any. If you're passionate about any of the subject matter we cover (details below), we want to hear from you. We do ask that you come with some attitude, an understanding of our goals, and knowledge (historical and current) of your area of interest.
Whether you've been a visitor to Yell! Magazine and think we rock or you're looking to beef up your writing portfolio or you think you could be a valuable contributor because you know your shit, we hope that you drop us a line via our online form and tell us about how you're the best thing since toilet paper.
What we cover on Yell! Magazine?
---
Basically, we need contributors for all our channels, but we understand that you might need some specifics, so here they are:
- Video game content related to news, reviews (first-person shooters, fighting, action, horror, gore, etc…), and top 10 lists.
- MMA content related to news, top 10 lists, fighter profiles, and interviews.
- Movie content related to reviews (horror, thriller, action, exploitation, etc…), interviews and news.
- Music content related to reviews (song and album within the genres of heavy metal, rock, rap, etc.), news, and top 10 lists.
- Much more channels will be available in the future.

Become A Fan Of Yell! Magazine On Facebook
Don't be shy... login below to comment.