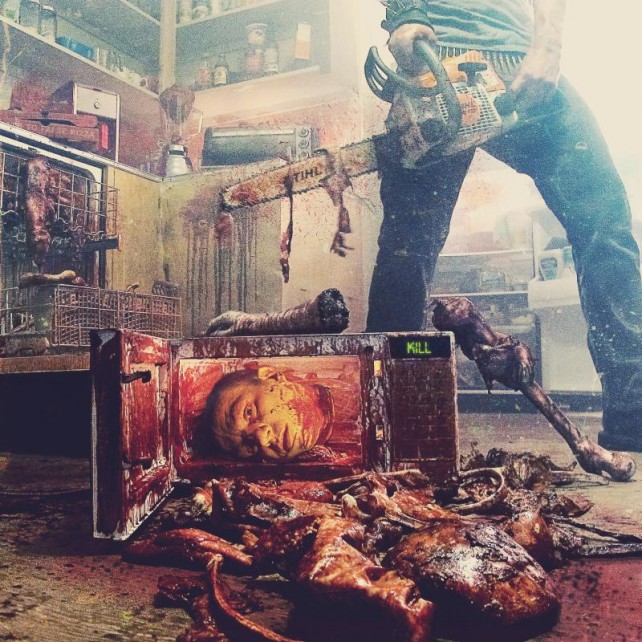 If you've been feeling a bit frisky, and in the need for some necrophilic lovin', then you need to check out Exhumed's refurbished take on "Necromaniac," which is streaming right now over at Invisible Oranges. It's sure to get you in a rigormortis mood.
As you should know by now, "Necromaniac" comes off Exhumed's upcoming release, Gore Metal: A Necrospective 1998 – 2015, which has a February 10th street date, via Relapse Records.
And if you're an Exhumed fan, then you know that the 1998 release Gore Metal was a genre-changing audio manifestation of vile, grinding, over-the-top death metal, filled with charming repugnance, raging riff subversions, foul-themes, slasher-film-inspired prose, and some putrid cover art.
Pre-order your copy here. If you want the digital version, go here.
About the latest track, "Necromania," guitarist and vocalist Matt Harvey said:
'Necromaniac' was a song that we felt best exemplified what we were going for on Gore Metal: Possessed and Repulsion ripoff riffs, grunts, screams, whammy bar obnoxiousness, and a traditional song structure. Hence why we chose it for the album's leadoff track. We've played the song countless times live throughout the years and I don't hate it yet, which is a good sign! This version is a lot more listenable and coherent, which may or not be a good thing depending on your taste. Anyway, if all that sounds like your kind of thing, give this revamped version a listen!
Exhumed is currently lacerating the ears of the living throughout North America supporting co-headliners Napalm Death and Voivod. The raid will trounce nearly three dozen municipalities, with its final assault befalling Houston on February 28th. Additional support will be provided by Iron Reagan and Black Crown Initiate with Ringworm, Dayglo Abortions, Theories, and Phobia to appear on select performances throughout the trek.
Exhumed Tour Dates:
w/ Napalm Death, Voivod, Iron Reagan, Black Crown Initiate [remaining dates]:
1/29/2015 The Masquerade – Atlanta, GA w/ Ringworm
1/30/2015 Ziggy's – Winston-Salem, NC w/ Ringworm
1/31/2015 Soundstage – Baltimore, MD w/ Ringworm
2/02/2015 Gramercy Theater – New York, NY w/ Ringworm
2/03/2015 Union Transfer – Philadelphia, PA w/ Ringworm
2/04/2015 Opera House – Toronto, ON
2/05/2015 Maverick's – Ottawa, ON
2/06/2015 Club Soda – Montreal, QC
2/07/2015 Palladium – Worcester, MA w/ Ringworm
2/08/2015 The Chance – Poughkeepsie, NY w/ Ringworm
2/09/2015 Agora Ballroom – Cleveland, OH w/ Ringworm
2/10/2015 Reggie's – Chicago, IL w/ Ringworm
2/11/2015 Amsterdam – Minneapolis, MN w/ Ringworm
2/12/2015 The Zoo – Winnipeg, MB
2/13/2015 The Exchange – Regina, SK
2/14/2015 Republik – Calgary, AB
2/15/2015 Starlite Room – Edmonton, AB
2/17/2015 Rickshaw Theater – Vancouver, BC w/ Dayglo Abortions
2/18/2015 Studio Seven – Seattle, WA w/ Theories
2/19/2015 Hawthorne Theater – Portland, OR
2/20/2015 Metro – Oakland, CA w/ Phobia
2/21/2015 Strummers – Fresno, CA w/ Phobia
2/22/2015 House of Blues – Los Angeles, CA
2/23/2015 Club Red – Tempe, AZ w/ Phobia
2/24/2015 Sunshine Theater – Albuquerque, NM w/ Phobia
2/25/2015 Summit Music Hall – Denver, CO w/ Phobia
2/26/2015 Granada Theater – Lawrence, KS w/ Phobia
2/27/2015 Gas Monkey – Dallas, TX w/ Phobia
2/28/2015 Fitzgerald's – Houston, TX w/ Phobia
Rock Hard \m/