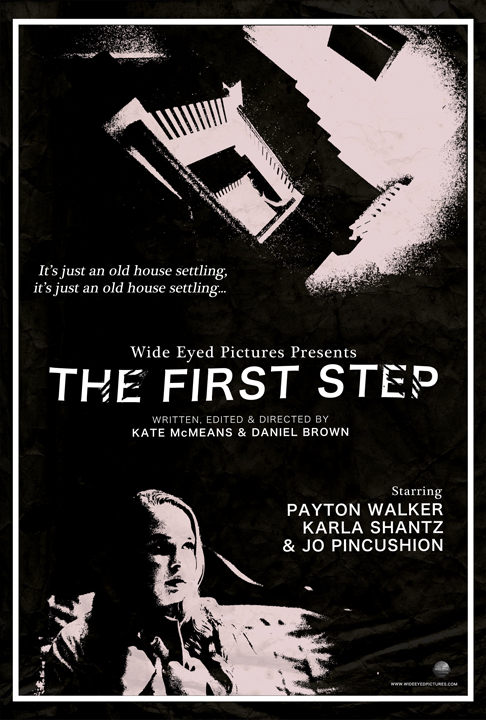 There are a few things in life that are genuinely creepy. Old houses, dark basements, unfamiliar surroundings, being alone, the Amish, windowless vans, the boogey man, waiting alone for something bad to happen… depending on your age and mental state.
The new seven-minute short The First Step from the writing and directing team of Kate McMeans and Daniel Brown capitalizes on some of those simple fears. The film marks the team's first foray into the horror genre with their award-winning filmmaking company, Wide Eyed Pictures — and it ain't too damn bad.
Naturally there are some issues to nitpick about in The First Step, such as stilted dialog, inconsistent sound editing (which does actually give an effect of suspense), the representation of the passage of time, and so on. Note that we aren't necessarily criticizing these issues, because as avid horror hounds, we love the good, the bad, and the "oh, so bad it's good." But where this short film really gets things right is its familiar story and capitalization on something we have all feared at some point in our lives.
Another aspect that the film gets right is with the "Cellar Dweller." Her makeups and movements were absolutely creeptastic, and her sounds are enough to send shivers down anyone's spine.
The First Step is very short, so there's a limited amount of time to tell the story, but the filmmakers did it. As a first stab at horror, this is a win for us, though it won't be for everyone, and we look forward to seeing more genre films from Wide Eyed Pictures.
The First Step Synopsis:
Poor, Sara. She and her mother have just moved to a new house. But on their first night, a mysterious figure climbs the stairs from the basement to terrorize her.
There's no scheduled release date presently, but considering we got our hands on a festival screener, our guess is that it will be making the festival rounds shortly. For now, you can enjoy the teaser.
Rock Hard \m/