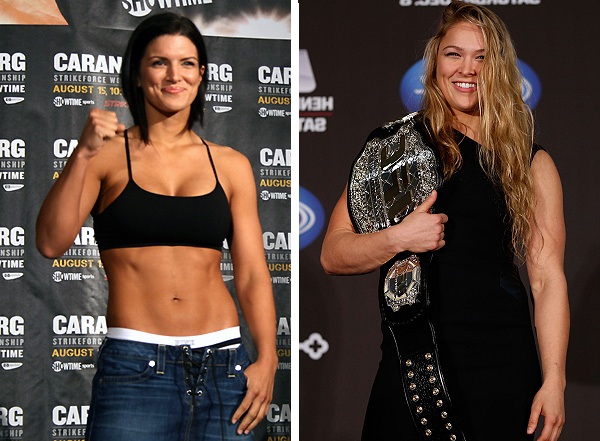 If Gina Carano returned for one final fight in MMA, would she get an instant match with UFC Bantamweight Champion Ronda Rousey? Definitely "yes," at 135 pounds, considering both UFC President Dana White and Rousey agree that Carano should. Even if she has been away from the combat sport for five years now.
During a UFC 173 media event on Wednesday, a large part of the chat was focused on Rousey vs. Carano, where the champion was even present to express her thoughts about a potential Carano fight. Rousey believes Carano deserves an immediate title shot if she returns to the sport because she's one of the pioneers of women's MMA.
Rousey said:
I think it would be the best thing for women's MMA, I think it would be the highest profile fight that could be done. I don't think it would make sense for her to come back and fight somebody else and take the risk of maybe losing and not being able to capitalize on the fight between me and her. I think it would make more sense to go straight to a title fight.
She's one of the pioneers of the sport, she's the reason I fight at all. You can't say she's just coming in off the street. How can you say no to the woman that I owe everything to? I would bend over backwards to fight her. I'm not going to make her run through the gauntlet to fight me. I would show up at her house if that's where she wanted to fight.
Although, there's still no official word on what was discussed between White and Carano on Wednesday night, White is at least 100% certain that Carano is going to "want the title," if she decides to come back in the very near future. Here's what White said:
She's going to come back when she wants to sign. She's the type of person like this one here (pointing at Rousey), she's not coming back just because. She's coming back because she wants the title.