The first trailer for Rob Zombie's Lords Of Salem is finally here, and I've been dying to see some of the scenes in action since the very first time I laid my eyes on the movie stills.
The world premiere for LOS took place at the Toronto International Film Festival a few weeks ago, and while we were waiting in line to see Smoke and Mirrors: The Story of Tom Savini in Montreal, Kalen Artinian, the director of Hellvetica bumped into us and gave us his first impression on how great LOS is without revealing the details. He pretty much summed it up as an art-house masterpiece that won't appeal to everyone in the horror genre, and will require more than one viewing as it's visually mind-blowing.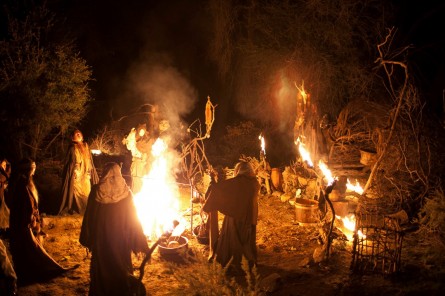 Apparently, some of the cinematic inspirations came from the styles of Stanley Kubrick, Dario Argento, and earlier works from David Cronenberg. It sounds like Rob Zombie is geared for an award on this latest effort.
I'm extremely excited to see Lords Of Salem, but unsure when that will be since the film will most likely get a limited theater release — and who knows when that will be announced.